News
Published 10 February 2021
Seeking a new Editor-in-Chief for the Journal of the Royal Society of New Zealand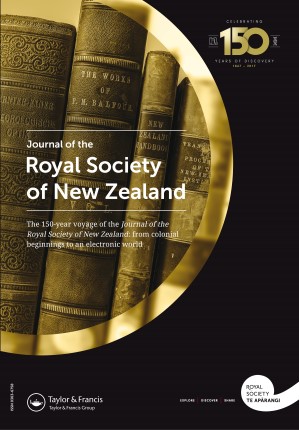 Royal Society Te Apārangi is currently seeking a new Editor-in-Chief for the Journal of the Royal Society of New Zealand (JRSNZ). This is the Society's flagship multidisciplinary title, as well as New Zealand's oldest learned periodical, continuing from the Transactions and Proceedings of the New Zealand Institute, first published in 1868. The journal's content spans science, mātauranga, technology and the humanities.
Following the sesquicentenary of Royal Society Te Apārangi in 2017 and the Transactions a year later, Journal of the Royal Society of New Zealand has been evolving and growing fast. The expanded editorial board of 33 active researchers from across all disciplines is ensuring the journal has an excellent spread of expertise with which to serve the entire research community of Aotearoa New Zealand. Papers from the previously under-presented disciplines in JRSNZ, and those not covered by our sister journals, can be seen more often in the journal. The journal's recent development has also been characterised by increased solicitation of impactful content, such as thematic issues and reviews. These changes have rejuvenated the journal and reinforced its position as a premium, multidisciplinary outlet for high-quality, diverse and influential research.
Pūtake tūranga – Role purpose
We are seeking an outstanding researcher with an international reputation for research excellence to become the Editor-in-Chief (EiC), who will provide leadership and strategic direction to shape and advance the journal's mission. Preferably, some of the EiC's research will be interdisciplinary and span various subject areas. The EiC will need to demonstrate strong vision, commitment and leadership to further develop JRSNZ as a high-profile multidisciplinary journal. Prior editorial experience working for a leading scholarly journal is highly desirable.
The EiC will be responsible for the performance and success of the journal. This includes working collegially with the large editorial board, strengthening relationships with te ao Māori, overseeing and developing the journal's content, driving growth, optimising editorial standards and policies, and continually engaging with the research community.
Communication is a key part of this role, as the EiC will need to build excellent and productive relationships with Associate Editors, who are academic experts in their fields and who handle most of the manuscripts. The EiC will also work closely with the publishing team at Royal Society Te Apārangi as well as Taylor & Francis, our publishing partner.
We seek journal editors that represent the diversity of New Zealand researchers.
Te mahi – The responsibilities for EiC include:
Overseeing the development and strategic direction of JRSNZ
Leading the team of Associate Editors and including them in editorial development
Encouraging the submission of manuscripts from established researchers and promising early career researchers across all disciplines
Planning and soliciting special issues and reviews for the journal, and working with Associate/Guest Editors to ensure their successful delivery
Promoting the journal through professional networks to build its visibility and profile within the research community
Working with Associate Editors to implement improvements to the overall editorial structure of JRSNZ and ensuring a cohesive development strategy between the various subject-category editorial groups
Chairing and directing editorial board meetings held annually with support from the publishing team
Making periodic assessments of the editorial board and recommending changes when appropriate, in co-operation with the publishing team
Acting as spokesperson for JRSNZ in public forums, meetings and conferences
Developing and maintaining beneficial links with New Zealand's research community, including associated organisations
Identifying newly-emerging areas and exploring any other opportunities to better serve the research community
Setting out a plan to make JRSNZ more prepared for being indexed in PubMed Central (PMC)
Ensuring that the integrity and reputation of the journal is maintained at all times: all editors are expected to adhere to the publishing ethics outlined in the Core Practices developed by COPE.
Mōu - To be considered for the position, you will:
Be an active researcher with a broad interest and strong networks in New Zealand and overseas
Have an excellent track record of peer-reviewed publications and prior experience as a reviewer
Have previous editorial experience, which could include membership of a journal editorial board or acting as a special issue guest editor
Have confidence and the ability to engage with authors and researchers to solicit the highest quality submissions and special issues
Be able to foster positive working relationships with colleagues
Be committed to enhancing relationships with te ao Māori
Have experience with using online submission systems
Be capable of assessing the scientific merit of research papers, providing editorial direction, and discussing scientific developments at a high level with academics and practitioners during travel to conferences.
Wā roanga me te utu ā-tau – Term and honourarium:
The first term of appointment will be 2 years, renewable thereafter by negotiation.
The Editor-in-Chief will receive an annual honourarium from Royal Society Te Apārangi.
While this is a prestigious appointment, as it is a leadership and oversight role with a large team of Associate and Guest Editors, we expect the role to take a few hours a week at most.
Interested candidates are requested to email a CV and a short vision statement as the cover letter, addressing the journal's potential future development, to the publishing team at publish@royalsociety.org.nz by 2 April 2021.
In your vision statement, please outline why you would like to lead a multidisciplinary journal, any previous experience you have working on a multidisciplinary or specialist title, and how you envision acquiring high-quality content and developing the journal's profile and reputation.
Source: Royal Society Te Apārangi