News
Published 6 July 2021
Special Issue released on Volcanism in Zealandia and the SW Pacific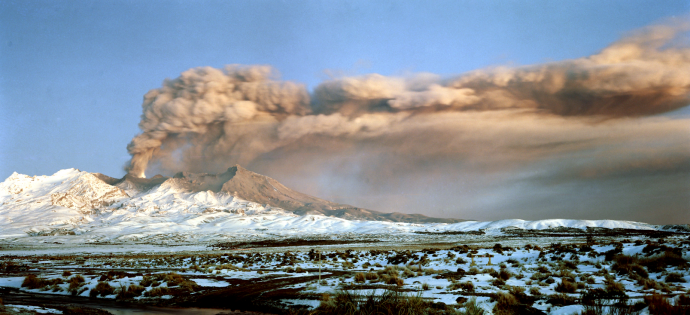 Credit: Lloyd Homer GNS Science
A new special issue of New Zealand Journal of Geology and Geophysics, this second part by guest editor James Scott summarises North Island volcanism.
The International Association of Volcanology and Chemistry of the Earth's Interior (IAVCEI) Scientific Assembly is meeting in Rotorua in 2023. With this in mind, the New Zealand Journal of Geology and Geophysics has assembled a two-part Special Issue on Volcanism in Zealandia and the SW Pacific. Part 1, published in 2020, provides regional summaries of volcanism, as well as South Island and Antarctic occurrences. Part 2, just published, summarises North Island volcanism.
One of the most significant paradigm changes in recent times has been our recognition that New Zealand forms only a small part of the much larger Zealandia/ Te Riu-a-Māui continent. Mortimer and Scott (2020) summarise the continental scale of volcanism, and seismic data are utilised by Bischoff et al. (2020) to determine the extent of 15 extinct offshore volcanic fields. Being largely a watery continent means that there is an extensive record of water-magma interaction, and this is reviewed by Nemeth and Kósik (2020).
The Special Issue updates our understanding of the beautiful stratovolcanoes of Mount Taranaki (Cronin et al. 2021) and Mount Ruapehu and Mount Tongariro (Leonard et al. 2021). In addition, Barker et al. (2021) summarise Taupō, for which one relatively recent eruption remains one of the largest known on Earth, Rowe et al. (2021) document Tarawera, the former location of the pink and white terraces, and Kilgour et al. (2021) review Whakaari/White Island. To broaden the perspective from studied of large Taupō Volcanic Zone volcanoes, case studies are presented on the crystals carried in lavas (Zellmer et al. 2021), hydrothermal sulphate associated with the geothermal fields (Chambefort 2021), and gravity anomalies (Stagpoole et al. 2021). Pittari et al. (2021) outline the volcanic record of the Tauranga area.
We can't ignore the remarkable record of intraplate volcanism, which can be likened to the hapless swimmer and the Great White shark Jaws being the magma that rises unexpectedly from the deep. In the North Island, these intraplate magmas occur from Northland to the Waikato (Smith and Cronin 2021) and include the dormant (but certainly not dead) Auckland Volcanic Field (Hopkins et al. 2021a; Peti et al. 2021). Even the South Island has a history of intraplate volcanic eruptions. These include the extensive Dunedin Volcanic Province (Scott et al. 2020a), which is one of the largest intraplate volcanic fields in the country, the Alpine Dyke Swarm (Cooper 2020; Serre et al. 2020), which is intimately associated with onset of displacement on the Alpine Fault, and the submarine-erupted Waiareka-Deborah Volcanic Field (Scott et al. 2020b), which occurred when almost all of Zealandia was underwater.
How we undertake volcanic research has changed since 1986. For example, eruption scenarios are considered for Auckland (Hopkins et al. 2021a), and Procter et al. (2021) document the extensive history of lahars on Mount Ruapehu and Mount Taranaki. Hamling (2021) utilises satellite data to assess the deformation of Tongariro and White Island, and Kereszturi et al. (2021) combine petrological data with airborne hyperspectral imaging and aero-magnetic data to analyse flank instability on Mount Ruapehu. The Special Issue also features articles on the mantle source of some magmas (Scott 2020), how those mantle rocks change as they are carried towards the surface (Auer et al. 2020) and how the magmas interact with the crust (Scanlan et al. 2020).
Finally, Zealandia has volcanic connections to Gondwana, and so there are opportunities to study ancient volcanic provinces such as those exposed on the south coast of the southern South Island (Mawson et al. 2020), as well as links with Antarctica (Smellie et al. 2020).
The Special Issue was edited by James Scott - Associate Professor of Geology at the University of Otago and President of the Geoscience Society of New Zealand.
Volcanism in Zealandia and the SW Pacific:
Part 1: Regional, South Island and Antarctic Volcanism
Part 2: North Island
Source: Royal Society Te Apārangi