News
Published 26 June 2023
Students selected to attend international science events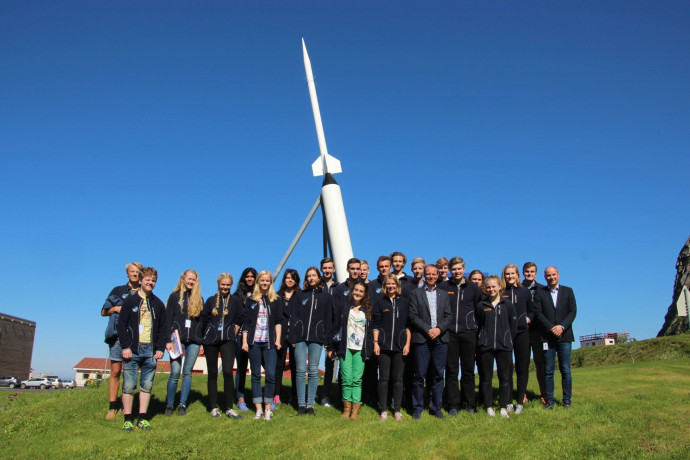 Students attending a previous European Space Camp from many different countries.
Fifteen Year 12 and Year 13 students with a passion for science are very excited to have been selected by Royal Society Te Apārangi to depart for various international science events in July or August.

Over 200 applications were received from students from all around the country. With just 15 available places for four different events, the selection panel found it a challenge as there were so many excellent applications received.
Royal Society Te Apārangi will be supporting the costs of the registrations and some travel costs also.
Paul Atkins, Chief Executive at Royal Society Te Apārangi, says: "Not only is this a great opportunity for talented young New Zealanders to interact with experts at the top of their fields in science but it is also an occasion for students to meet other like-minded students from around the world and to share their passion for science but also learn about their cultural differences. We are delighted to be sending students to international science events again after a three-year hiatus due to the Coronavirus pandemic".
Harry Messels International Science School Sydney, 2–15 July 2023
This is a two-week residential science camp from 2-15 July. Each day at the ISS2023 will be packed with amazing, inspiring science —leading researchers discussing their research, exploring labs and research facilities to look behind the scenes, chatting with undergraduates and early-career scientists, and getting hands-on with real experiments and loads of STEM activities. Joining the five New Zealand students will be another 140 students selected to attend from Australia, China, Japan, Singapore and Thailand.
Students selected to attend:
Arina Chaptynova, Epsom Girls' Grammar School, Auckland
Tapas Kant, Havelock North High School, Hastings
Harry Naske, Gisborne Boys' High School, Gisborne
Sifan Huang, Samuel Marsden Collegiate School, Wellington
Farah Aladem, Lincoln High School, Canterbury
European Space Camp, Andøya Space Center in northern Norway, 30 July–6 August 2023
The first space camp took place at the Andøya Center in 1996 and has since attracted over 500 participants from over 20 countries around the world. Some of the best lecturers from across Europe speak on topics as diverse as rocket physics, the work of CERN and the northern lights. Group work enables participants to spend a week in the life of a scientist and tackle a problem relating to the rocket launch. There are five groups in total: Rocket System Design, Experimental Instrumentation, Payload, Rocket Telemetry and Rocket Physics. The highlight of the week is the rocket launch, which takes place near the end of the week, with enough time to analyse the results of the launch before the students depart.
Students selected to attend are:
Spencer Cleland, St Peter's School, Cambridge
Reuben Dempster, Marlborough Boys' College, Blenheim
London International Youth Science Forum, 26 July–9 August 2023
Founded in 1959, LIYSF aims to give a deeper insight into science for the benefit of all humankind and to develop a greater understanding between young people of all nations. LIYSF is a two-week residential student event held annually in London, which attracts 500 of the world's leading young scientists aged 16-21 years old from more than 75 participating countries. LIYSF will cover a broad range of subjects across STEM fields and students will be able to tailor their programme to suit their own STEM interests.
Students selected to attend are:
Joseph Bahoo, Sacred Heart College, Glendowie, Auckland
Māori Scholarship (fully sponsored) to attend LIYSF - Luca Ririnui, Mount Maunganui College, Tauranga
Kaita Hummel-Jibiki, Tawa College, Wellington
Youth ANZAAS, Melbourne, 2–7 July 2023
Youth ANZAAS is an annual residential international forum for senior secondary school students. Students from around Australia and New Zealand are selected to participate in science activities and experiences over a week. It is organised by the Australian and New Zealand Association for the Advancement of Science (ANZAAS).
This year students will visit the Department of Defence Research, RMIT and the University of Melbourne, with behind-the-scenes tours of the Walter and Eliza Hall Institute of Medical Research and the Melbourne Museum.
Students selected to attend are:
Nelson Huang, ACG Parnell College, Auckland
Sarah Tagiilima, Aorere College, Auckland
Jade Fisher, Mercury Bay Area School, Whitianga
Laito Fauchelle, St Patrick's College, Silverstream, Upper Hutt
Alyssa Burt, Motueka High School, Nelson
Source: Royal Society Te Apārangi