News
Published 18 May 2018
Teaching science for the future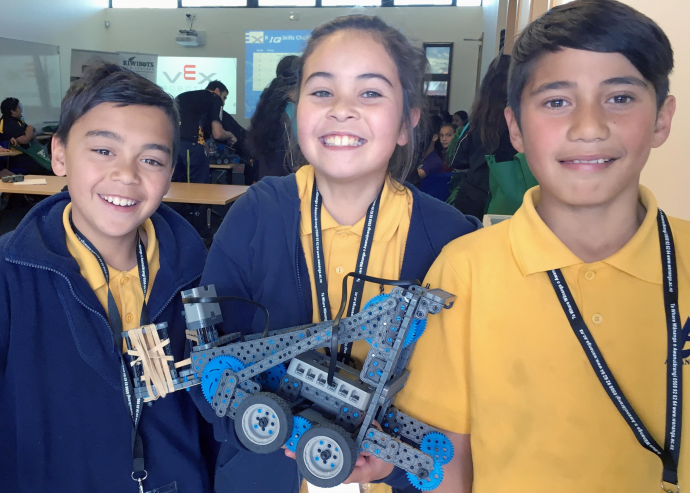 Students with the robot they built at RoboPā (c) Laura Goodall, Curious Minds
Prime Minister Science Teacher prize winners, including one from Australia, join Science Teaching Leadership Programme coordinator Jenn Corbitt to discuss the teaching of knowledge and skills that will benefit students into the next decade and beyond.
Royal Society Te Apārangi is delighted to partner with the Australian High Commission and The Prime Minister's Science Prizes to present The future needs scientists! a panel discussion that brings together leading science educators. Three teachers Sarah Johns, Terry Fenn and Dr Ken Silburn from Australia will offer insights and approaches as to how they teach science in a time when technological advances are at pace. They will also examine how their teaching practice produces students that are enthusiastic and ready with scientific skills and knowledge heading towards 2030.


The 2017 winner of the New Zealand Prime Minister's Science Teacher Prize, Sarah Johns from Nelson College for Girls says "The many young people that I have worked with really care about making the world a better place to be. I love to cultivate conditions which challenge them to take risks, bring their ideas, passion, innovation, creativity, problem-solving skills and talents to learning projects. These will be required now and into the future. Although it is easy to describe the wicked problems we face, it is also important to acknowledge the exciting scientific discoveries yet to be made and innovations still to developed. It is our young people that will be doing it".
Terry Fenn from Onslow College, who won the New Zealand Prime Minister's Science Teacher Prize in 2014 says "Science is fun to teach because it's such a natural extension of our real interactions with the world. It allows us to tap into the inherent curiosity of young people (and the not so young…if it hasn't been drummed out of us!). It's as if we allow ourselves to turn the clock back to childhood and give real value to that raw sort of learning…the "Why?" "What if…?" style of learning that drives parents mad! Teaching lets us give a structure to that curiosity and build a set of tools to systematically investigate those questions – it's empowering for young people".
Dr Ken Silburn, head science teacher at Casula High in Sydney and 2015 Australian Prime Minister's Prize for Secondary Science Teaching was nominated for the prestigious Varkey Foundation Global Teacher Prize in 2017. A former biochemist, Ken started Invigorating Technology Engineering and Mathematics (iSTEM), a programme that allows students to attend space camp in the United States and focus on science on weekends and school holidays. He also volunteers in India to teach science to teachers and students.
Ken says teaching science is "Fun! The many small successes that you have when students are able to relate what they are doing in class to authentic tasks. The meaningful conversations. The times when students tell you about the conversations that are generated at home about what we have done in the classroom and the times when you meet a student years after graduation and they recall the positive times in your classroom. Apart from literacy and numeracy, the skills that students pick up from learning science will allow them to participate in future careers and make responsible decisions based when they are adults".


This conversation will be chaired by Jenn Corbitt, coordinator of our Science Teaching Leadership Programme (STLP). This two-year long programme is a remarkable opportunity for nominated teachers from both primary and secondary schools to enhance the teaching of science within school communities.
The future needs scientists! will be invaluable to those who teach science, but everyone interested in science and/or education matters is welcome to attend. Please note though that as this event being held at the Australian High Commission, registration is essential.
The future needs scientists!
WELLINGTON | Australian High Commission
Friday 13 July, 10am-12pm (noon) - register here
With Jenn Corbitt (chair), Terry Fenn, Sarah Johns, Dr Ken Silburn
Morning tea will be kindly provided by the Australian High Commission.
Presented by Royal Society Te Apārangi in partnership with the Australian High Commission and The Prime Minister's Science Prizes.
Views expressed at this event may not reflect those of Royal Society Te Apārangi or the Australian Government.
Source: Royal Society Te Apārangi