News
Published 19 June 2018
Young New Zealanders to head to Toulouse Space Show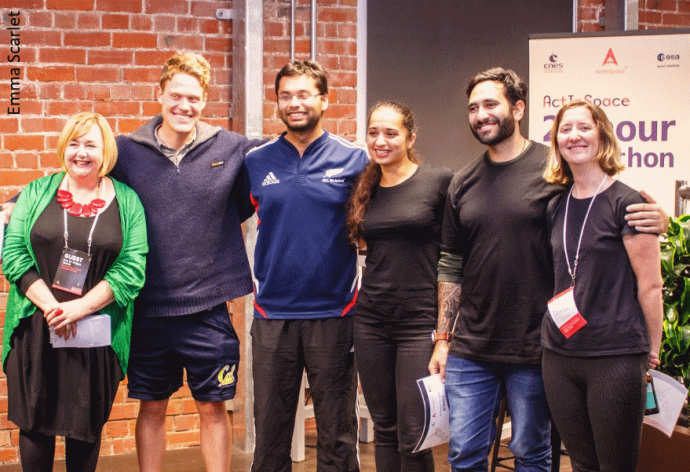 Winning team Te Mārama with Hon. Megan Woods
Two New Zealand teams will travel to France to participate in the international Toulouse Space Show, following their wins at the recent ActInSpace competition held in Christchurch.
ActInSpace is a biennial international event, aimed at bringing new ideas and entrepreneurship into the space industry. It's organised by the French (CNES) and European (ESA) space agencies. This year was the first in which New Zealand has participated, joining 34 other nations running coordinated events in 71 cities around the globe. The competition takes the form of a 24-hour "hackathon", during which teams of up to five participants each tackle a challenge, choosing a topic from a list of dozens. The aim of the competition was to come up with business plans for startups based on making innovative use of space technologies.
The New Zealand ActInSpace competition was organised by the Centre for Space Science Technology (CSST), based in Alexandra, Central Otago. An invitation was issued to the local Dunstan High School to send a team. Other participants varied from senior STEM undergraduates and research students through to some more-advanced entrants. In total fifty participants from across New Zealand came to compete, along with twenty mentors who buzzed around providing expert advice to the teams, plus a dozen eager helpers who made sure everyone was fed, watered, and entertained. Popular kiwi songstress Anika Moa sang for everyone whilst the judges deliberated, following the teams' final presentations.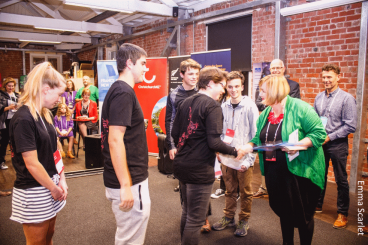 Apart from a number of special prizes, the team selected as having made the best case for their concept being a viable proposition – economically as well as technically – were to be rewarded with a trip to Toulouse to be in the international final.
The winning team was 'Te Mārama', and comprised Mahima Seth of Auckland, Jonah Belk from Dunedin, Zeus Engineer of Christchurch, and Ben Tairea and Maddy King from Wellington. Te Mārama's pitch recognised that having astronauts venture outside a space station to fix things is time-consuming, costly and dangerous, and so they proposed a methodology to use virtual reality for remotely operating repair robots. Te Mārama are now refining their project to be ready for the international final in Toulouse on 27 June.
The pitch from the team of five Year 12 students from Dunstan High School was to find ways to use the new European Galileo global positioning satellites to draw on maps in novel ways. Ruby Shaw, André Schaap, Justin Tudor, Jake O'Malley and Damien Miller, who decided to call themselves 'Team Underage' – recognised that whilst there is a lot of ugly graffiti around, there is also some fine artwork painted on the sides of buildings, at no small expense. There are many other large bare walls which could host artwork, perhaps, and artists who would like to place their designs on them. Their plan was that by using Galileo they can geolocate such walls or other suitable screens onto which artwork might be virtually projected. They could size and define those virtual canvasses, and make them available via applications such as Google Earth/Maps for artists to 'place' their pictures on, where visitors could access them.
The scheme has similarities with the recent 'Pokemon Go' craze: people could look up where virtual artwork has been installed in any town or city, go to the appropriate viewing location, and then, using their mobile phones, they could take a look at the dozen or more artworks that have been designed for just that spot, pulling the virtual images off the internet and viewing them on the wall. Artists can choose which walls to employ, and use their own phones to set them up. The high school students placed second out of the eleven teams.
Only one team, Te Mārama is being entered into the international competition in Toulouse, but the New Zealand Space Association decided to also fund the high school team in order for them to be able to pitch their concept "Our Planet, Your Canvas" to the 3,000 industry professionals at the Toulouse Space Show.
The New Zealand ActInSpace competition was organised by Centre for Space Science Technology and supported by the New Zealand Space Agency and ChristchurchNZ, with support from the French Embassy in New Zealand, Venture Southland, L'Alliance Française, NIWA, and CatalystCloud.
Source: Centre for Space Science Technology (CSST)