Biography of Sir Ernest Marsden
The life of the man in whose honour the Marsden Fund is named
Who was Marsden?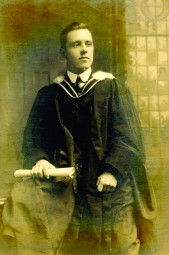 The Marsden Fund takes its name from physicist Sir Ernest Marsden (1889-1970) who made a remarkable contribution to science both in New Zealand and overseas. His career in science began at Manchester University as an undergraduate working with the New Zealand experimental physicist Ernest Rutherford. There, his findings were to inspire Rutherford to pursue his research into the structure of the atom.
Lecturer and Lobbyist
Marsden was appointed Professor of Physics at Victoria College of the University of New Zealand in 1914 and moved to New Zealand in 1915. He quickly acquired a reputation as an inspirational lecturer, with an energetic approach to groundbreaking research, and a talent for lobbying for financial support.
Putting Science into New Zealand Industry
In 1922, he surprised academia by becoming the Department of Education's Assistant Director, and, in 1926 the founding Secretary of the new Department of Scientific and Industrial Research. His science background and skills as a lobbyist and forward thinker, ensured the establishment of a department which could support all aspects of farming, New Zealand's main industry. The divisions Crop Research, Plant Disease, Grasslands, Fruit Research, Botany, Entomology, and the Soil Bureau were established. Marsden's trademark was his ability to link outside and Government funding.
Marsden was elected President of the Royal Society of New Zealand in 1947, but moved to London four months later as New Zealand's Science Liaison Officer. He served on many committees throughout his life, and maintained his interest in research on radiation. Marsden returned to New Zealand in 1954, was knighted in 1958, and died in 1970.
The Marsden Fund is so named in recognition of this scientific leader whose lively imagination and provocative ideas epitomise what the fund stands for.
A detailed biography of Sir Ernest Marsden, and an interview with his son, Dr Tim Marsden was published in Marsden Update 33.