Anneke Simmonds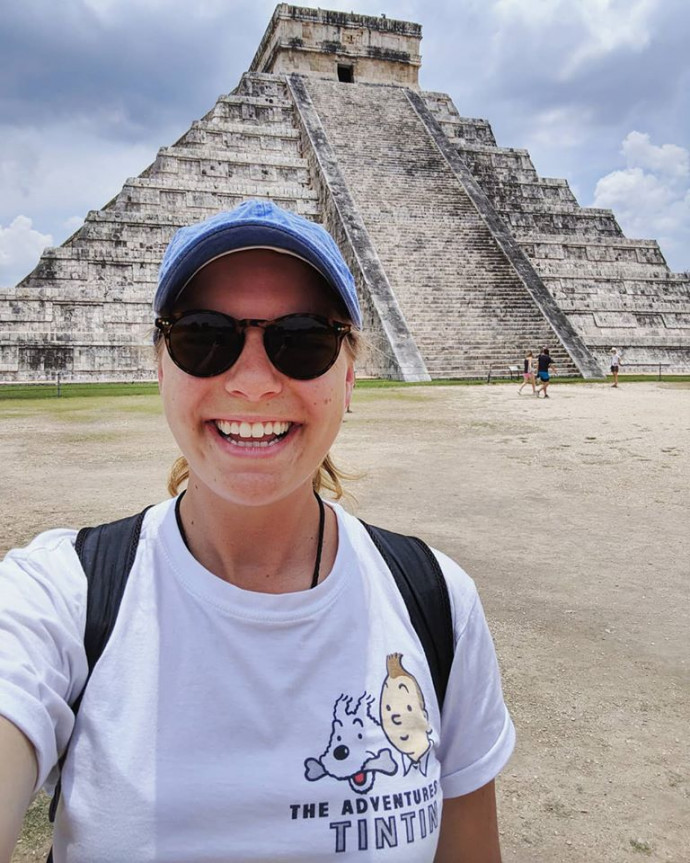 Travelling through Mexico as part of a round-the-world backpacking trip after completing a semester abroad
In 2014, Anneke was in her last year of college when she was selected by Royal Society Te Apārangi to attend the London International Youth Science Forum. She now works as a Civil Engineer, after recently graduating from Monash University with a Bachelor of Engineering (1st class honours). Anneke shares her experience pursuing her passion, overcoming obstacles and learning to prioritise her mental health.

Coming from a family of six, I think I was initially drawn to the sciences to satisfy my desire to have a "right" answer, or at least that's what my parents might tell you! However, my attraction for science grew stronger as it became more specialised near the end of high school. Around this time I realised where my future would lie. Attending the Rotary National Science & Technology Forum at the start of 2014 - before entering my final year of schooling - cemented this. Here I found myself amongst the largest concentration of outgoing, intelligent and curious young minds. Together we painted glow-in-the-dark masterpieces from green fluorescent protein we had extracted from jellyfish, programmed robot cars to self-steer their way through a maze, examined the geological formations of the North Shore and discoed the nights away with our newfound friends. Two weeks spent living together at the University of Auckland was enough to forge lasting friendships. I still regularly reconnect with these peers when I find myself travelling around New Zealand.
Heading back into Year 13 after this experience was a whirlwind. I was quickly jolted back to reality as I was juggling part time work alongside sports, debating, running the student council and the academic rigour of trying to prepare for university admission. However, I knew that the opportunity to relive the summer's experience was too good to pass up, and so I applied and was selected by Royal Society Te Apārangi to attend the London International Youth Science Forum. This involved a two-week course at Imperial College in London, followed by an optional extra week travelling through Paris, culminating at the Large Hadron Collider at CERN in Switzerland. Although the trip came at a challenging point of the school year, my physics teacher completely supported my attendance and I knew it was a sacrifice that I could not second guess making.
I was again welcomed into an environment with an immensely diverse collection of students, many of whom had already made a name for themselves through winning prestigious competitions in their own countries. Despite these incredible achievements, they were some of the most humble and genuine teenagers I had come across during my schooling years, and I was delighted to be able to catch up with some of them on my recent trip to Europe, despite five years having passed since the forum.
Upon my return from Europe, it was time to put some serious thought into my imminent university years. Following this I was pleasantly surprised to receive a University of Auckland scholarship. However, on a whim I decided to venture further afield, and with a week to go until classes started, somewhat impulsively booked a one-way ticket to Melbourne to commence a Bachelor of Engineering at Monash University. I knew I would complete at least one semester there, but my plan was always to end up at McGill University in Montreal, Canada. I was hoping to be awarded an entrance scholarship to commence study at the start of autumn in the northern hemisphere.
This dream was exceeded when I was selected for a prestigious Greville-Smith scholarship, which would have entirely covered my university fees. As such, I could not understand why my heart sank when I received the news. I had already been living on the Monash campus for a month, and at that stage I had done something my kiwi heart had never thought was possible – established incredible friendships with Australians. I was loving my classes, the Melbourne nightlife and live music scene, I was playing social and competitive sport and had finally found the perfect flat white on campus. I realised the prestige of your university, your degree, or your scholarship was the least important thing to look back on when you remember such a formative time period in your life. So I went against my entire high school mentality and turned the scholarship down to remain at Monash - where I was incredibly happy.
Whilst I absolutely loved my time at university, I think it's important to mention that a lot of students who fall into the 'high achiever' category in high school probably think they are immune to burning out - despite our teachers constantly warning us. At university I attempted to maintain the same lifestyle I had in high school: playing sport, diving into leadership programmes and making sure to keep up my academic performance. I was also juggling working sufficient hours at a part time job to be financially independent, with the social aspects of living in a residence with 200+ young adults who were suddenly free from the constraints of living at home. This, coupled with a bout of glandular fever in the month before I started university soon lead to developing chronic fatigue, which had devastating impacts on my ability to focus in class, exercise, or at times even to stay awake. I had to completely overhaul my lifestyle and readjust my entire mindset towards my education. At this time, I began counselling to assist with anxiety triggered by the stress of a difficult degree and the complications of this diagnosis.
An open dialogue around the perils of burning the candles at both ends, as well as an emphasis on the importance of seeking mental health aid when required, must be at the forefront of everyone's mind when heading into their university years. If not for your sake, then perhaps for your peers. Looking after your own mental and physical health, as well as that of those around you will play an essential role in allowing for a smooth transition into adulthood.
After what at times felt like an eternity, I graduated with first class honours and have commenced full time work as a civil engineer in the water and drainage sector, designing the rail infrastructure within Victoria, Australia. At the present time, I'm designing the drainage networks for several new rural train stations, as well as running the Water Sensitive Urban Design and Integrated Water Management for the Suburban Rail Loop, Melbourne's biggest rail project. This involves implementing sustainable water practices, such as harvesting and reusing rainwater to replace potable water demand and installing bioretention systems and wetlands to treat stormwater. These systems simultaneously reduce flooding risk and remove pollutants from runoff before it is discharged into the receiving environment.
Outside of work I play Australian Rules Football competitively, and spend most weekend nights at a live music gig or festival. I also enjoy travelling both within and beyond Australia, and I'm continuously planning my next escape up to the mountains to snowboard or hike, or down the coast for some camping and surfing.