Bronwyn Heath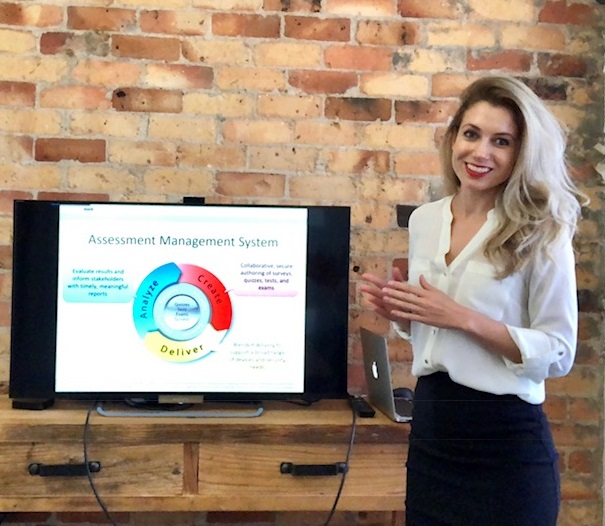 Bronwyn first became involved with the Society when she was a student at Manurewa High School undertaking a science fair project on weta.
I think my parents still shudder at the memory of my Year 13 science fair project where for over six months I housed and observed 12 tree weta in a gigantic fish tank in the garage, all of which were named of course and became very dear to me!
From this project, I was invited to attend the Realise the Dream event in Wellington, alongside 34 other students from around New Zealand. This was a fantastic event filled with a variety of different learning experiences that had been arranged and an opportunity for all students to present and speak about their projects to an invited audience.
My plan during school was always to be a doctor. However, it wasn't until I had the acceptance letter in front of me that I realised it wasn't actually what I wanted anymore. I was fascinated by all the disciplines of science – physiology, chemistry, biology as well as other areas such as statistics, computer science and commerce. I remember how exciting university was – the breadth of subjects you could take and the endless possibilities! To achieve as much variety as I could I changed to a science degree, double majoring in physiology and psychology.
I couldn't wait to get started on my career and to travell overseas so at the very first opportunity after completing my degree I booked a one-way ticket to London! I was fortunate enough to get a graduate internship with a global research consultancy where I would be in the Quant Medical Device team. As the internship didn't start for six months, I decided to use that time to try as many random jobs as I could – this included being a legal secretary, restaurant manager at a posh hotel and even working at a private homicide enquiry practice. Needless to say, transcribing 111 calls for the latter was somewhat traumatic and I couldn't wait to get back into science!
My internship with the research firm Synovate (now Ipsos) was a fantastic experience; I was exposed to many different types of research methodology and techniques for conducting quantitative analysis. These research projects were for large medical device companies like Medtronic, General Electric and Johnson & Johnson. I loved that every research project was so different – I could go from working on robotic technology for remote surgery, to neurostimulation devices for treatment of tremors and Parkinson's Disease, to optimisation of heart valves and gastric sleeves.
I continued to work for other research firms in London, still specialising in quantitative research in the medical field. I enjoyed the concept of using robust data to drive decision making and future strategy. I was also fortunate enough to travel a lot with work to conduct research – Paris, Rome, Berlin, Barcelona – and I found it unreal that they were actually going to pay me to travel to these places!
After five amazing years in London, New Zealand was pulling at my heart strings, so I made the move back home.
Medical market research wasn't a big market here at that time, so I needed to diversify. An opportunity came about to work with a small but well-established software distribution company (Business Toolbox Ltd) who needed help with business development and strategy. As one of the core products was an assessment management software, it aligned well with my background in statistics and questionnaire design.
The past five years have just whizzed by and I'm still with this company and am now a Company Director. In recent years we expanded into Australia and set up a company there, introduced new products to the portfolio and also made the Deloitte Fast 500 list for fastest growing Tech companies in the Asia Pacific region. Through this role, I have the opportunity to work across even more industries – including aviation, manufacturing, finance and transport.
Aside from work, I spend my time climbing mountains, running the occasional marathon, and travelling as much as possible – to date I have clocked up 50 countries and I'm determined to make it to 100 in my lifetime!
While my career has moved more into the technology space, the way I approach projects still follows the same structure as back in my science fair project days. I am forever grateful to Royal Society Te Apārangi for fostering such passion amongst New Zealand youth in science and technology and providing the tools necessary to solve such interesting problems.
Here are a few of my top tips for students looking at a career in science or technology:
There are an incredible number of opportunities in science and applied science – don't hesitate to look up people who are in careers you find interesting and ask them questions.
Be uniquely you and don't give any air-time to those with tall-poppy syndrome.
The grass isn't greener on the other side, its greener where you water it – this applies to pretty much everything in life!
It's ok not to have everything worked out or know what you want to do for the rest of your life – I am still deciding myself. Follow your interests and your strengths, always work hard (water that grass!), and the rest will work itself out. If you catch yourself worrying about the future, remember Mark Twain's quote "I am an old man and have known a great many troubles, but most of them never happened!"
And finally and most importantly - never stop learning!