Hazel Swanson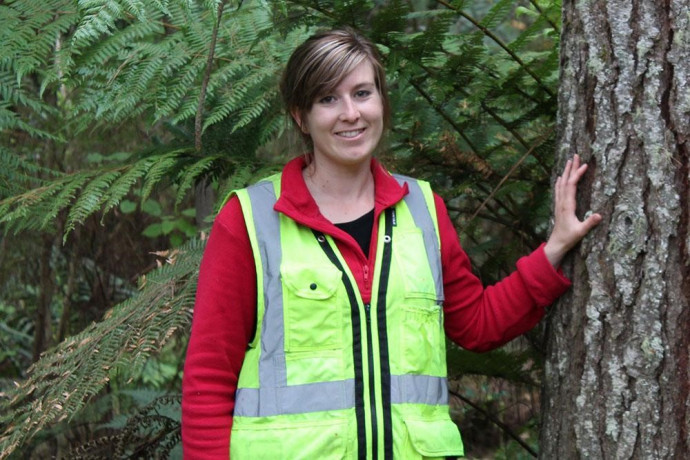 Hazel studied engineering for a year but decided it wasn't for her. She decided to change direction to study forestry science and found her passion! Read more about her journey and the work she does at Timberlands NZ.
I first became involved with Royal Society Te Apārangi in 2008 when I was selected as one of two New Zealand student representatives to attend the United Space School in Houston, Texas. The Society provided me with significant sponsorship to attend the two-week programme, which was attended by students from over 20 countries. While I was there we were given the opportunity to visit NASA's neutral buoyancy lab, mission control and work together in teams to achieve a successful "Mission to Mars" which was presented to NASA officials at the University of Houston. This trip was life changing for me, giving me the opportunity to meet like-minded people from many different countries and confirming my decision to follow a career in science.
I have always had a passion for science and was sure I would make a career out of it one way or another. In my final years at school I chose to study chemistry, physics and biology as well as calculus and statistics so I could keep my options open when it came to choosing a university degree. When I graduated from New Plymouth Girls High School at the end of 2009 I originally decided to study engineering at the University of Canterbury. However, at the end of my first year I decided that engineering was not for me and decided to explore the Bachelor of Forestry Science degree after taking a forestry paper as an elective earlier in my first year.
I have never looked back since and, four years later, I have graduated with a Bachelors in Forestry Science. This degree was the perfect fit for me offering papers in a wide range of subjects including economics, statistics, biosecurity, environmental science and engineering. There was a significant amount of time spent on field trips and work experience and the small class sizes provided an optimal learning environment and were a great way to make life-long friendships.
To pass the degree I was required to complete both practical and professional work experience in the forestry industry. The work experience was a great way to learn about various career paths in the industry while also making important industry contacts and earning some money over the summer break. In my first summer I gained my practical work experience at TaranakiPine a new Plymouth based sawmill that specialises in fingerjointed and whole timber products from Radiata Pine. I gained experience working in the planning, laminating, finger-jointing and re-manufacturing departments as well as in the log yard.
In my second summer I gained professional work experience at the Taranaki Regional Council in the Land Management Team. I was responsible for a farm forestry project, gathering data on different plantation species in woodlots and shelterbelts on farms throughout the region as well as a number of other smaller projects and mapping work.
In my final summer I gained further professional work experience working as part of the forestry team at Carter Holt Harvey Pulp & Paper now Oji Fibre Solutions based at Kinleith, Tokoroa. While I was there I set up a eucalyptus fertiliser trial amongst their newly established eucalyptus plantations, established a number of heath and safety systems and developed a source code audit system for their third party log suppliers.
Once I had graduated I took up a graduate role at Timberlands Ltd, a forest management company based in Rotorua. Timberlands Ltd sustainably manages approximately 200,000 hectares of plantation forestry in the central North Island including Kaingaroa Forest, the largest plantation forest in the Southern Hemisphere. The graduate program at Timberlands Ltd is one of the best in the country with two years spent rotating around the different departments within the organisation including technical, forest risk, tree crop, harvesting and the nursery. In my time in the graduate program I gained experience in pruning, thinning and planting operations as well as health and safety, forest health and environmental.
In 2017 I took up a permanent position as a forest engineer in the harvesting and marketing department. My role is extremely varied: working on roading and engineering projects, carrying out environmental remediation and monitoring, coordinating harvesting around archaeological sites, harvest planning and much more. I love my job as every day is different and it allows me to spend a lot of time out in the field as well as in the office. During my time at Timberlands Ltd I have been involved in a number of exciting things including post storm helicopter surveys, rescuing falcon eggs, participating in controlled burns and firefighting exercises, identifying archaeological sites and obtaining my UAV (drone) pilots licence through the Massey School of Aviation.
Forestry is an exciting and environmentally sustainable industry which does not shy away from new ideas and cutting-edge technology. As someone who loves science, the outdoors and plenty of challenges, I can't imagine a better industry to be in.
Hazel Swanson
Talented school student programmes alumni
Forestry is an exciting and environmentally sustainable industry which does not shy away from new ideas and cutting-edge technology. As someone who loves science, the outdoors and plenty of challenges, I can't imagine a better industry to be in.