Jacob Martin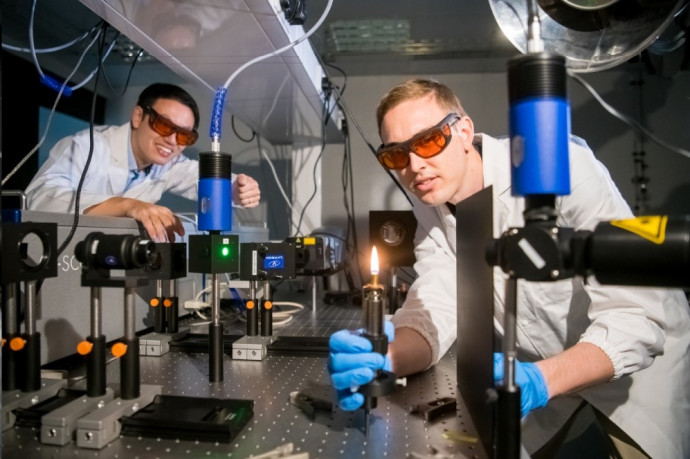 Jacob Martin and colleague Dr Yichen Zong at the Cambridge Centre for Advanced Research and Education in Singapore
Jacob first became involved with Royal Society Te Apārangi when he was selected for Realise the Dream in 2008, the National Science and Technology Awards for school students. Now, he is about to finish his PhD at the University of Cambridge.
Science and Technology Fairs were what really kicked off my scientific journey. In intermediate school I was selected to attend the Auckland Science Fair, and was amazed by all of the inventions and experiments demonstrated here.
A couple of years later, my high school social studies teacher encouraged me to enter the Waikato Science and Technology Fair. I built a water electrolyser to produce hydrogen, not without some minor explosions in my parents' garage. Here I won the top technology award and $300 dollars. With that I came to the realisation that one can actually make money from science, and though that wasn't the reason I continued to pursue it - it was comforting knowledge to have in the back of my mind.
My next project took an unexpected turn as I was drawn into pseudoscience on the internet. I was lucky enough to meet scientist Dr Dean Barker, who diplomatically told me I wasn't looking in the right place and offered to mentor me. His input provided the guidance I needed to move forward and discard the false online content. During my own judging of science fairs, I have since been able to pay it forward with a student in a similar position to me.
Further mentorship came from industry. In high school, my technology teachers encouraged me to learn metalwork, while the engineering shop where I worked after school (Wilkinson's Transport Engineers) gave me the keys to the workshop to use in the weekend. I was also mentored by the late Douglas Williams from Fluidyne Gasification Ltd, who walked me through building a gasifier that could convert wood into a fuel gas, allowing me to run an engine on wood. A highlight of this project was at the Waikato Science and Technology Fair, where I was able to run a generator off wood and power a light bulb, a simple proof of principle. I won the top award for this and had an opportunity to compete at the national level at the Realise the Dream competition in 2008.