Nicolette Adamson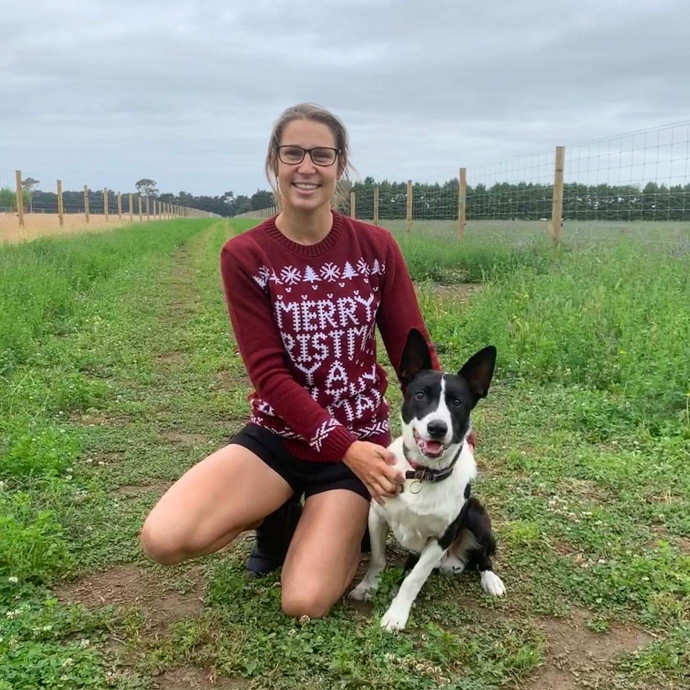 Nicolette's three legged dog (three peg Greg) at Christmas 2019
Nicolette reflects on her involvement with Royal Society Te Apārangi. Particularly, how her experiences with CREST and Realise the Dream helped her achieve her goal of becoming a veterinarian.
I first became familiar with Royal Society Te Apārangi when I achieved a First CREST award in intermediate school. My association with the Society continued when I was awarded Silver and Gold CRESTs at Morrinsville College. My Gold CREST project aimed to create a body of work that may one day help dairy farmers across the country better understand contributing factors in their struggles with mastitis. I was investigating the effect that teat end damage and hyperkeratosis had on new intra-mammary infections across a dairy season in the Waikato. I was able to submit this research into my local science fair, which eventually led me to the Realise the Dream programme. Here, I presented this research to like-minded people across various industries.
These accomplishments were stepping stones in my pursuit to become a vet. I was gaining knowledge in report writing, understanding epidemiology, getting an introduction into statistics and also learning how to critically analyse research articles from others – I also made many contacts from within the industry along the way. All of these factors helped me to enter into the professional phase of my veterinary degree. They have also helped me in my career today, where I often find myself falling back on these skills when researching new diseases, and understanding the research that has gone into new treatments for the conditions we face every day.
University study was definitely a challenge for me, I often found myself trying to tread water in a new comfort zone. However, I loved the social aspect, as I had all of my friends so close by in Palmerston North – a city that deserves a lot more credit! I also really enjoyed the sporting aspect, I joined the football club as soon as I arrived. The club became a cornerstone throughout my university career as I joined the committee in my third year, while I was still attempting to conquer the academic side of things.
Out in the "big wide world" I landed my first job in the Hawke's Bay. This was an incredible experience as I found myself among some of the brightest brains in the sheep and beef industry, and also a lot of grapes! After finishing an induction in our small animal clinic, I was whisked off to Palmerston North again to join in the Mycoplasma Bovis response team. This would dominate the next nine months of my life, where I helped set up the Hawke's Bay arm of the testing crew. Along with a colleague of mine, we tested over 90 farms in the Hawke's Bay (each farm at least once and mostly three times). This again drew deep from my knowledge of epidemiology and farmer communication, but also a lot of personal resolve in dealing with a group of people who were incredibly kind, understanding and open about what was often a devastating event for them.
These days I am a "normal" veterinarian based in Waipukurau and am absolutely loving it. I work 50:50 in small and large animal work – I still can't decide if I like sheep, cows, dogs or horses more! Day to day we are usually ambulatory, which means we go on farm to see sick animals and provide them with care. In a large animal capacity, I enjoy working with sheep and beef farmers to meet their production targets through minimising animal health impacts. I also really enjoy our equine clients, as I see this as a great mix of large animal physicality and small animal precision. My small animal work in Waipukurau is mostly dealing with working dogs, who are in my opinion the absolute best patients. They are incredibly hard workers and are stoic, but also so affectionate. They often end up with particularly unique injuries, so helping them get back to their peak performance is very rewarding.
In the little free time I award myself, I switched from football to rugby in the 2019 season and managed to make the provincial Hawke's Bay Tui side for both the 15s and Sevens in that year! This took us to the championship final for the 15s team where the ladies only just missed out on promotion. Our Sevens team also qualified for the TECT National Sevens, another life changing experience. I have been fortunate enough to be included in the Hawke's Bay Rugby Union High Performance group this year – 2020, and will hopefully be getting out on the park a lot more (if COVID-19 will allow!).
I constantly strive to improve in all areas of life, every time I step into the clinic or onto the field I aim to be better than I was the day before. This might entail being calmer in a situation that I wasn't calm in last week, having a farmer thank me for putting their mind at ease, or making the tackle that I missed in the last situation. Improvement is the goal, and one that I will continue to strive for.