Pratibha Singh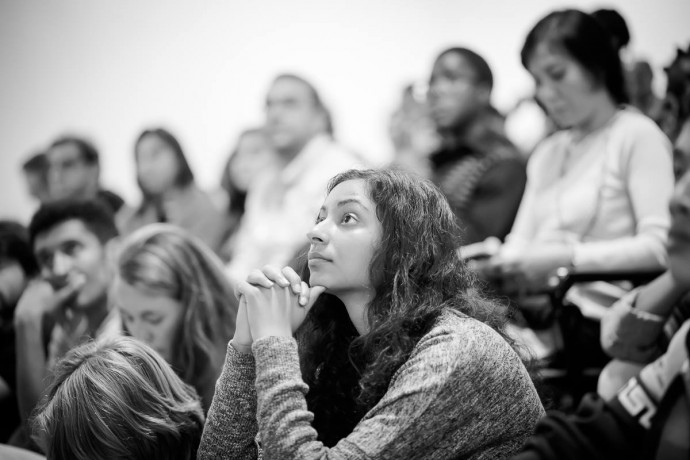 Pratibha was one of ~20 students representing the voice of over 10,000 students from 18 colleges worldwide at United World College International Congress
From being selected for the Asia Science Camp in Thailand by the Society, to being elected as one of the top 100 change-makers by Future Talks Foundation, Pratibha is unsure of what will come next, but knows her passion for learning, change-making and global citizenship will continue!

I am an English-born Kiwi Indian, who grew up in Whanganui. Throughout high school, I absolutely loved the STEM subjects. I took Physics, Biology, and Chemistry at all levels, three different Mathematics curricula, including one at university level, and competed in the Comvita's Science Challenge and NZ Young Physicists Tournament. I became involved with Royal Society Te Apārangi when I was selected as one of five New Zealanders to attend the Asia Science Camp in 2015. This week-long conference at the National Science and Technology Department Agency in Thailand brought together Asia-Pacific's top 200 young scientists and was such an amazing experience. I remember staying up late talking with other students about quantum mechanics and geeking out on Einstein's theory of special relativity. It was such an insight both into science as well as the cultural life of Bangkok. I remember the feeling of curiosity that the science community revolved around as well as the love for learning. It was this as well as the international connections and experience that sparked the next step of my education journey.
A few months after the Asia Science Camp, I left Whanganui and New Zealand as one of two New Zealanders selected to study at United World College (UWC) in Maastricht, Netherlands. I went to this college because of its vision and mission to make education a force to unite people, nations and cultures for a more peaceful, just and sustainable world. In those two years, I worked on various projects from organising the International Peace Conference, helping set up a community centre, to representing the voice of over 100 different nationalities at UWC Congress. It was perhaps two of the most transformative years of my life and a humbling experience to be surrounded by such amazing young voices calling for a better world.
After UWC I received admission to Minerva Schools at KGI in San Francisco - an alternative education tertiary institution that I thought would be a natural transition after UWC. However, after a semester I made the decision to leave as the programme didn't embody the type of values I wanted in my education. I returned to New Zealand where I began a Bachelor of Global Studies at the University of Auckland, a newly released, issues-centered degree with global citizenship at its heart. I have absolutely loved these past two-and-a-bit years. The programme is challenging, critical, and just what this world needs right now. It brings together many different disciplines – so I get to continue studying science, as well as politics, geography, law, sociology, language, and area studies disciplines. I major in Global Environment and Sustainable Development, take Spanish as my language and Latin America as my area studies.
These past two years have seen me selected as one of 100 top-changemakers around the world by Future Talks Foundation as well as named a Prime Minister's Scholar for Latin America. I have been on exchange to Mexico, took part in an expedition to the Arctic, and am currently completing my second exchange semester in Norway. I've also had some great work experience along the way, from being a Women Speak Intern at the International Women's Earth and Climate Action Network to now a part-time research assistant at the George Mason Centre for the Natural Environment.
I've loved being able to delve into so many different disciplines and explore so many different parts of the world - something that started with the curiosity and love for learning at the Asia Science Camp in 2015. Next year, I am looking at a wide range of options, all of which are calling to me in some way. At home, there is a Master of Science in Society at Victoria University of Wellington. Abroad, there is a Masters of Natural Resources and Environmental Law and Policy at the University of Bradford. I'm unsure exactly what will come next, but I know I will continue my passion for learning, change-making, and global citizenship!