Rachael Horner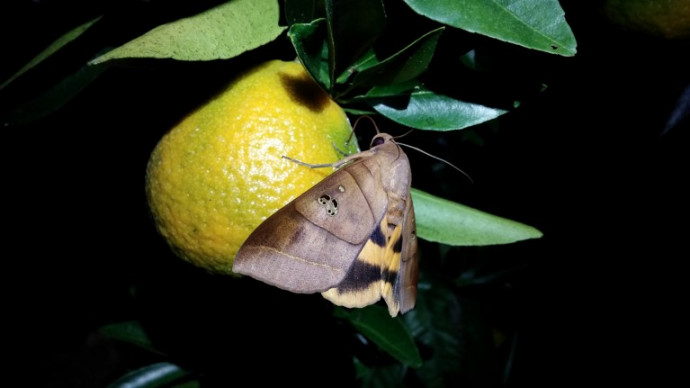 Fruit-piercing moth
Talented school student alumna and Realise the Dream participant Rachael Horner describes her journey from a Year 8 student working on her science and technology fair project to working as a entomologist at Plant and Food Research, Lincoln.
As a 13-year-old I was out on a sunny Hawke's Bay day collecting leaves for my science fair project. Investigating leaf transpiration rates was perhaps an early sign of the biological sciences career path I would eventually choose. As a result of this project, my relationship with the Royal Society Te Apārangi began and I was selected to attend Realise the Dream in Wellington in 2003 as a Year 8 student. I had an amazing time participating in the lectures and activities that were organised for us. We were also provided training on making a three-minute presentation about our research to the public. I continued studying the sciences throughout high school, but I was always most engaged when I was studying biology and learning about how ecological systems worked.
When I completed high school, I took the plunge of moving to Dunedin (with its abysmal weather compared to sunny Hawke's Bay) and undertook a Bachelor of Science degree at the University of Otago majoring in Zoology and Botany. I knew I wanted to study science and have a job working outdoors, but beyond that I wanted to keep my options open. In my first year I studied everything from geology and chemistry to botany and statistics. I found it very challenging to narrow my degree focus down because I enjoyed all my papers. It was a great place to discover new environments I'd never visited as a North Islander. Through ecology field trips and the tramping club, I fell in love with the golden tussock tops of the alpine zone.
During summers back in my hometown of Havelock North, I worked in the student programme in the applied entomology research group at Plant and Food Research. The job was a great mix of being outdoors in the apple orchards or vineyards and in the laboratory. I was fascinated with the new technologies such as mating disruption being developed which were replacing insecticides and I knew my future career was in entomology and integrated pest management.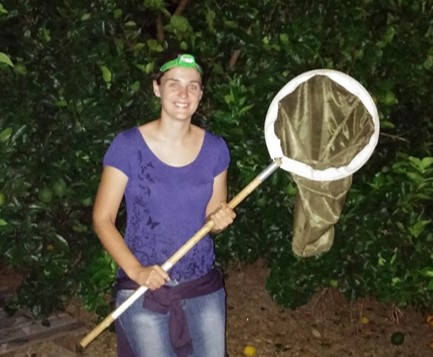 After graduation in 2011, I went back to work at Plant and Food before heading off on my OE. I worked in Germany in a blueberry breeding facility and WWOOFed (World Wide Opportunities on Organic Farms) through Europe before backpacking through Russia and Mongolia and into China and Southeast Asia.
Since 2014 I've worked in the Biosecurity Research Group at Plant and Food Research in Lincoln. We specialise in developing new methods to manage and prevent new insect pest incursions and reduce the cost of these insects to New Zealand's primary industries. The best part about my job is the variation - no two days are ever the same! One day I might be out and about in Canterbury collecting field data and the next day I'll be in the lab doing electrophysiology experiments on insects.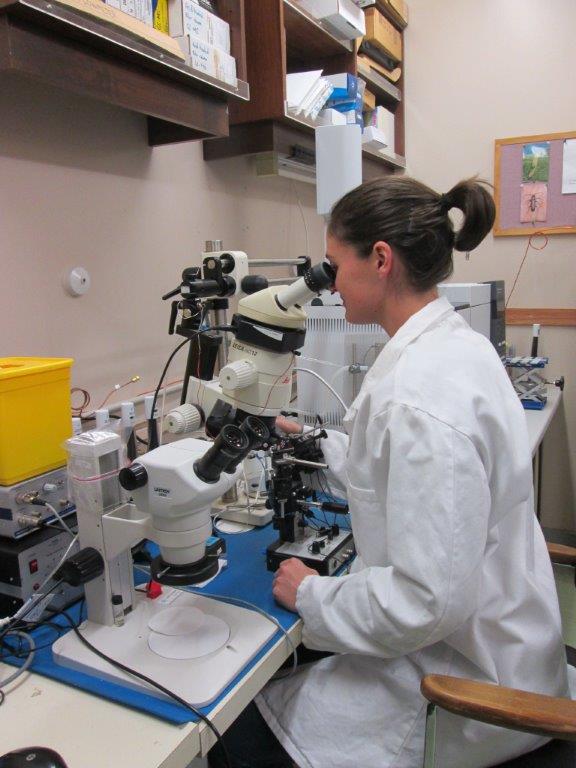 The challenge of working in biosecurity is that you are often studying insects that pose an enormous threat to New Zealand's horticultural sector, but are not yet present in the country. However, this creates opportunities for overseas collaboration and travel for research. I've had amazing opportunities early in my research career to travel to Canada to study the use of Unmanned Aerial Vehicles in deployment of sterile insects and also to New Caledonia to study the Queensland fruit fly and fruit piercing moth. What's next? With pest insects such as the Queensland fruit fly, brown marmorated stink bug and spotted wing drosophila constantly knocking on New Zealand's door, there will always be new projects and challenges.
It's not all work and no play though, and in my spare time I love to get into the amazing outdoors that the South Island has to offer. Tramping, climbing, mountain biking and playing canoe polo are just a few activities that I love to do. I also love looking after our beehives and vegetable patch in Christchurch. I didn't quite get rid of my travel bug either and we're off to South America this winter whilst the insects are hibernating!