About Powering Potential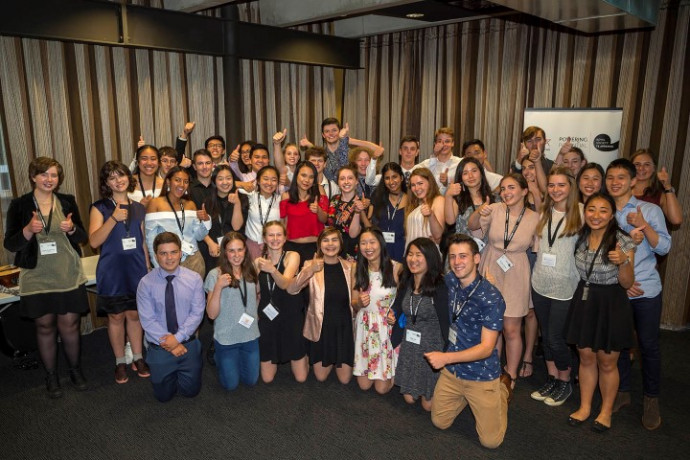 2017 participants
Year 12-13 students who have a passion for science and technology are selected to work together in teams of five to help solve some of the big science issues.
This unique opportunity will see New Zealand's most promising young students come together to seek answers to some of the big problems supported and guided by mentors.
Powering Potential is for you if:
you study at least two science subjects and plan on studying science at a tertiary level.
you are gaining merits or excellence in your studies.
you enjoy thinking outside the box and are able to problem solve.
You are creative.
you can work as part of a team.
you are a good listener and communicator
you enjoy researching a science topic.
you enjoy meeting like-minded students.
you like to be challenged.
We are looking for emerging thinkers who will be tomorrow's doers – the people who will be tasked with solving some of the biggest issues facing the world.
What you are likely to gain from attending Powering Potential
improved skills such as leadership, time management, communicating, resilience, research, planning, teamwork, presentation skills.
the opportunity to be mentored.
40 new friends.
About Powering Potential
The 2020 event will be held from 14 - 17 December (you will depart after breakfast on 17 December)
Participants may choose to arrive earlier or stay later but any extra accommodation, however costs over and above of what would normally be provided would need to be paid by the student.
students will work in teams of five and research a science issue submitted by a scientist.
the team will be mentored by the scientist who submitted the question.
Powering Potential is not a holiday and teams will work very hard during the three days.
Social activities are planned for the evening.
all costs including travel, accommodation, food and activities are covered by the event.
What you will gain from attending Powering Potential
enhanced problem solving skills, team building skills, leadership skills, time management and research skills.
meet and make friends with other like-minded students from all over New Zealand
feel motivated towards being a divergent thinker in the future.
get the opportunity to talk to a 'real' scientist
learn more about yourself and the way you think.
It goes without saying that the power of curiosity and questioning and the ability to answer our own questions are crucial skills, both in the sciences and in life in general.
Current Status
Powering Potential is now open for nominations. Go to: Nomination and Entry Forms
Eligibility
Find out who is eligible for Powering Potential.
Partners
Powering Potential is proudly supported by: