About the Science Teaching Leadership Programme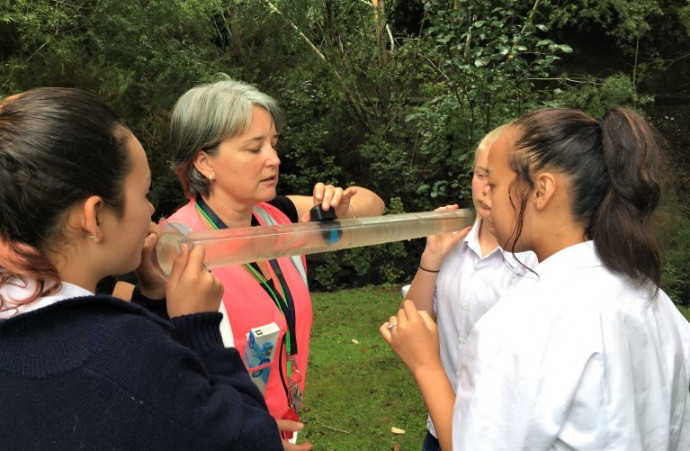 The Science Teaching Leadership Programme provides opportunities for primary schools, secondary science departments and their nominated teachers to enhance the teaching of science within school communities.
The Science Teaching Leadership Programme makes a real difference to students' science learning by:
Enhancing science programmes to better engage students and develop their science knowledge and skills
Contributing to the professional learning and development of teachers
Building links between schools and practising scientists
The Science Teaching Leadership Programme supports the Government's strategic direction for Science in Society.
The Programme is a full school or science department initiative that requires a commitment from the school to prioritise science as a key focus area for professional learning.
Schools nominate a teacher to develop their curriculum leadership skills in science, connect with others learning about the Nature of Science, and develop links with science organisations in their communities.
There are two phases to the programme. Participant teachers take paid leave from their school during phase one.
Programme overview
Phase one (two school terms)
Placement in a science organisation
Participant teachers undertake a placement in an organisation that uses science as a significant part of their work. Through this experience, they gain a deeper understanding of the Nature of Science in a scientific context.
Science curriculum development
Through workshops and online discussion, Participant teachers use their placement experiences to expand their understanding of the Nature of Science strand in the New Zealand National Curriculum.
Leadership enhancement
Through a master's level programme, teachers explore their leadership capacity by focussing on their personal growth and development
Phase two (12 – 18 months)
Back at school, participant teachers and schools work together to improve science teaching and student learning.
Learn more about what is involved in the Programme
Eligibility
Participant teachers need to be registered primary and intermediate teachers or secondary science teachers of years 9 and 10 who have been teaching in New Zealand for a minimum of 3 years.
They must have a permanent position at a school, full time or part time, and must be a New Zealand citizen.
View full eligibility criteria.
Applications
Current status
Applications for Term 1, 2024 are now closed.
If you are interested in applying for the Programme in the future, please contact stlp@royalsociety.org.nz
---
The Science Teaching Leadership Programme replaced the Primary Science Teacher Fellowships and the Endeavour Teacher Fellowships.
(updated 17 August 2023)