Arthur Street School - Karen Parker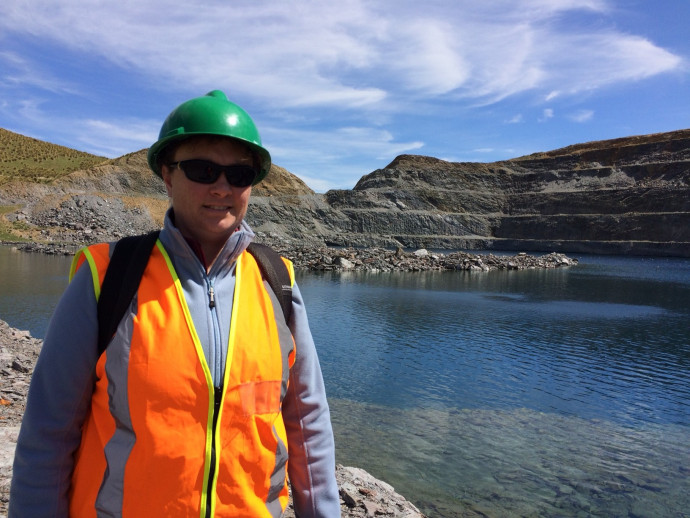 2015 | Getting to the core of it
School: Arthur Street School
Host: The University of Otago
Region: Otago
Karen has 14 years teaching experience. Her interests involve science, technology, mathematics, robotics and computer programming. Karen has spent the past four years developing a diverse and reflective intermediate programme at her school.
Hosted by the Department of Geology at the University of Otago, Karen has worked along side three hosts –   Dr Christopher Moy (Sedimentology/Paleoclimatology), Dr Virginia Toy (Structural Geology), and Dr Christian Ohneiser, (Palaeomagnetism). Karen has also been working alongside undergraduates, post graduates and lecturers.
She has thoroughly enjoyed attending a variety of field trips around Dunedin. Karen has been able to see and observe some of Dunedin's finest geology and looks forward to putting this knowledge into programmes for her students to experience.
Karen has been fortunate enough to work with students studying geophysicists, geochemists, structural geologists and palaeontology during outreach. These outreach programmes have provided Karen with a variety of experiences she can build on.
Karen has been out in the field collecting data, samples. She has learnt how to prepare materials for testing. She has spent sometime in the Palaeomagnetism lab, geochemistry lab and at the Dunedin hospital to analyse the core and sediment samples.
Karen has worked with core samples from New Zealand and Antarctica. Throughout this placement, Karen has been interested in how specialised scientists work to piece together the geological history of New Zealand and Antarctica.
Karen has also worked on magnetic mineralogy of core samples from Antarctica to understand the distribution of ice sheets in the past to reconstruct the ice sheet retreat since the last ice age.
Karen has been working with rock core samples in a variety of geological investigations. She has assisted in the work on image analysis of drill core surface images from Macraes Mine north of Dunedin. She has learnt new computer skills that she will be able to use in the classroom.  Karen has also assisted in the extraction of fossil material from sediment cores in an aim to see when the changes in the climate that affected the type of sediment occurred. These fossil materials help piece together the climate changes in the past ~11000 years.
The key aspects Karen has learnt are:
The importance of problem solving
The importance of working in teams, discussing and sharing ideas
The interconnectedness of different aspects of science when validating findings
Karen is very excited to be leading her school in science and can't wait to get back into the classroom to teach the Nature of Science and the five science capabilities. Karen is particularly looking forward to having her students, staff and community work together on some longitudinal and sustainable science practices.