Broadgreen Intermediate School - Mark Stephens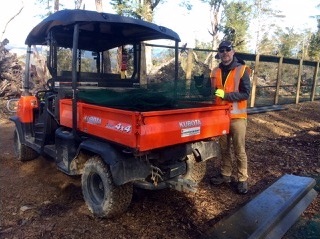 2015 | 'Fence me in' – preparing the Waimarama Sanctuary
School: Broadgreen Intermediate School
Host: Brook Waimarama Sanctuary
Region: Nelson
Mark teaches at Broadgreen Intermediate School in Nelson. In his eighteenth year of teaching, Mark's passion is providing meaningful experiences for students in the classroom. He has spent the majority of his teaching time in Intermediates and enjoys the challenge of engaging this age group.
Mark was hosted by the Waimarama Sanctuary where he helped to gather baseline data in preparation for the completion of the pest control fence mid 2016. As part of this process, Mark travelled throughout the sanctuary sampling areas to discover species diversity, distribution and abundance. This will provide data on what currently exists in the Sanctuary pre-fence, and will be compared to data collected after the fence has been established.
He also identified the key invertebrates that will give the best indication of the impact of pest control on invertebrate biodiversity/ abundance. In addition to monitoring projects, Mark aided in the mapping of trap lines throughout the sanctuary to help establish more accurate mapping of the area.
The project also included some research of the pest control techniques/tools that have been applied to different mammalian pest control areas within the Sanctuary and in neighbouring comparable habitats.
During phase one of the programme, Mark has embraced the opportunity to enhance both his scientific knowledge and his leadership skills. He has found the curriculum days immensely valuable in developing his understanding of the New Zealand Curriculum and its expectations regarding the teaching and learning of science at primary level. He has also appreciated the opportunities to enhance his content knowledge through hands on activities and workshops. Leadership development is a major focus of the Science Teaching Leadership Programme and Mark feels confident that the learning experiences and professional development undertaken have prepared him to lead science in his school with confidence.
Mark would like to thank the Royal Society of New Zealand for administering the Science Teacher Leadership Programme and providing this excellent opportunity for teachers. He is grateful to Rick Field and the staff at Brook Waimarama Sanctuary for making his visit an enjoyable experience and is looking forward to developing a relationship between the Sanctuary and Broadgreen Intermediate.