Clyde Primary School - Clyde Primary School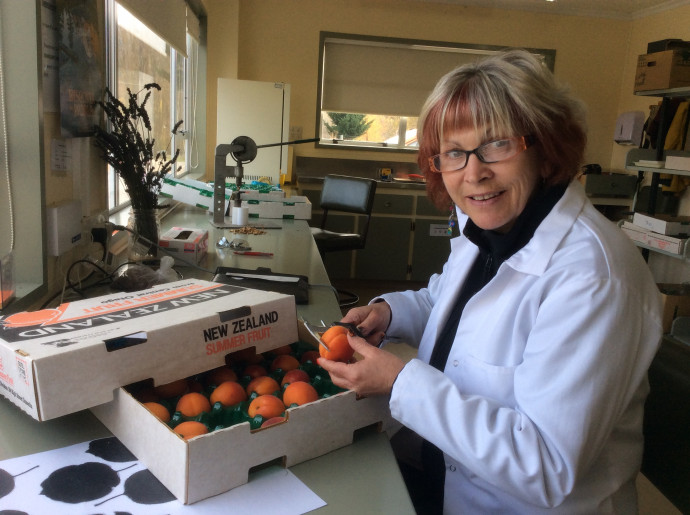 2015 | Plant and food in our community
School: Clyde Primary School
Host: Plant & Food Research
Region: Otago
Sally has been a teacher for 35 years, working all this time in the Central Otago area. She has been Principal of three rural schools – one being a sole charge. She has worked at Clyde for the last 12 years.
Sally was working with Arlene Nixon at the Plant and Food Research, Clyde, looking at how scientists use genetics to create an apricot that has all the right qualities for orchards and the market. She collected data on the potential cultivars describing plant details for potential patent work. This included looking carefully at 18 different characteristics of the fruit itself and then an even more detailed look at the tree and the leaves. The flower data will be collected later in the year. She cut budwood from promising selections, which will be propagated on root stocks. Fruit stones were dried and cracked to collect the seed kernels for further growing of different varieties of apricots.
Sally has seen how scientists spend a great deal of time carefully observing and monitoring, how every detail is of importance and processes are charted over a great many years. She has worked with Arlene on how to set up experiments back at school, taking into account that they may also take some years to reap the benefits. Understanding that a large amount of data is required on any one aspect before scientists can even come up with theories, has been an important aspect of science that will be of relevance when returning to the classroom.
Sally knows that the connection between the school and the Plant and Food Research will continue in the future. During her time on the programme, connections have been made with other teachers in her area and also with other members of the course. After visiting Mt Albert Plant and Food Research, she has made yet another connection with three scientists who would like to help with anything they can when she returns to school. They are willing to help with planning of units that extend the Nature of Science into other areas of the curriculum. This will greatly help with Sally's planning through the shared vision which is an area she would like to pursue.
Sally would like to thank the team at the Royal Society of New Zealand for an enlightening and challenging two terms. She would also like to thank Executive Education, University of Otago, for the interesting and challenging presentations at the Leadership Course.
Special thanks have to go to Arlene, Sally's host, for all the valuable information she fed Sally and for all the wonderful stories they shared. Sally has had an inspiring journey and wishes to thank Plant and Food Research for allowing her to spend it with Arlene and her colleagues at the Plant and Food Research.
The journey has only just begun!