Dargaville High School - Theresa Gracie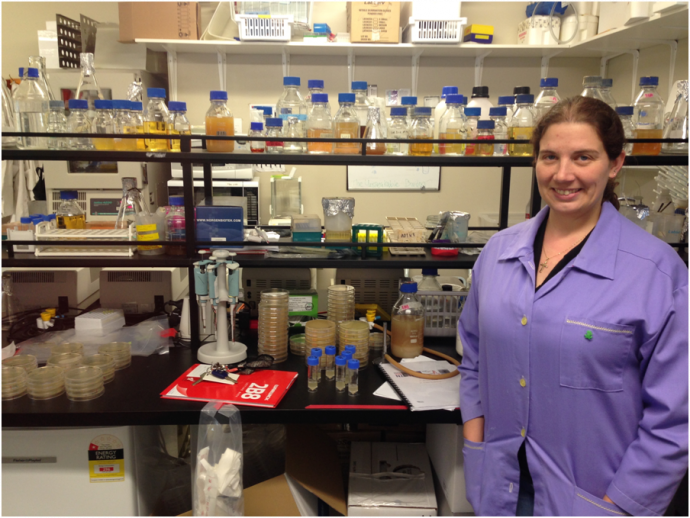 2015 | Pseudomonas bacteriophage discovery and biology: Finding maple tree
School: Dargaville High School
Host: Massey University, Albany
Region: Northland
Theresa is a Canadian who has been teaching for 11 years. She has been interested in biological science since learning about it in grade 7. Theresa came to New Zealand with an interest in learning to be a teacher and having an overseas experience. Theresa is now based in Dargaville, teaching at Dargaville High School.
Theresa has enjoyed her time in the Hendrickson Lab at Massey University. Out of the lab, as time permits, Theresa is still attending afternoon seminars and participating in Journal club. In the lab, Theresa has been continuing her phage hunt with Pseudomonas fluorescens SBW25, with limited luck at this time.
Theresa has also started a project looking at type of horizontal gene transfer known as transduction. Transduction involves the movement of genes between onganism by using a bacteriophage as the vector. Using a past undergraduate student's previously found phages, Theresa was able to test to see if they were capable of performing transduction. One of the six phages, known as a Jumbo phage has shown promise in the last week at the lab by completing two separate transductions.
Personal growth has underpinned Theresa's learning. As she is taking on a new leadership position upon retuning to Dargaville, the programme has provided opportunities to help increase confidence and understanding what it means to be a leader for Theresa. The Nature of Science strand in the curriculum provides a great basis to learn how to develop a department and an individuals confidence with that strand.
Theresa's host Dr. Heather Hendrickson has been a great supporter of growth and always willing to help. She has been a great role model for leadership.  
During the final weeks of phase one, Dr. Hendrickson demonstrated her invaluable knowledge and ability to give her time to make sure Theresa was ready for her final presentation.
Theresa is looking forward to returning to Dargaville High School and share what she has learned in the past two terms, but not before a quick trip home to Canada for a recharge.