Golden Bay High School - Paul Nield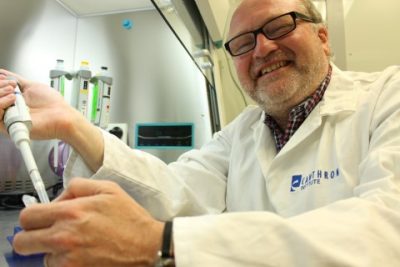 2015 | Developing the Nature of Science through aquaculture research activities
School: Golden Bay High School
Host: Cawthron Institute
Region: Tasman
Paul Nield is a secondary trained Science teacher with a Postgraduate Certificate in Education specialising in Chemistry. He has taught for 23 years in the UK before coming over to New Zealand in April 2003 and teaching Chemistry and Science for a further 12 years at Golden Bay High School.
He was hosted by Dr Jonathan Banks at the Cawthron Institute in Nelson. The Cawthron Institute is New Zealand's largest independent science organisation, offering a broad spectrum of services to help protect the environment and support sustainable development of primary industries.
During his time here Paul has been involved in a programme of learning that has assisted in further developing his understanding of the Nature of Science. He has worked alongside numerous members of staff and researchers being involved in projects that support aquaculture in New Zealand. In particular he:
learned how to use genetic based methods in order to identify bacteria that can cause illness in consumers if they are present. There was an assessment of the sheep specific and possum specific assays for faecal source tracking.
worked collaboratively on a project looking at ways to identify two clades (types) of Adelie Penguins. This has involved the preparation of assays, the running of qPCR and the subsequent collection and review of data. In addition a short communication was written detailing the research.
assisted in the Microbiology department testing water and seafood samples for E-coli (a faecal indicator bacterium). This was to ensure the concentrations of bacteria were below permissible numbers.
helped conduct sea water tests using probes in the Marlborough Sounds examining water columns at different depths around a Mussel Farm.
looked at the interaction of sea-squirt colonies using time lapse photography. The purpose of this research was to gather data to help reduce the size of the sea squirt population.
helped out with a Cryo-workshop involving the selective breeding of mussels. This research was to help produce more female mussels for the export market.
prepared samples of water to quantify the concentrations of toxins.
gave a radio interview on Fresh FM and given newspaper interviews about his work both at the Cawthron Institute and on the Science Teacher Leadership Programme.
Paul has also been involved working with Community Education visiting workshops at the Cawthron Aquaculture Park and visited both secondary and primary schools in Golden Bay and Nelson meeting teachers and teaching science lessons to youngsters..
Paul would like to express his sincere thanks and appreciation to Jonathan Banks, Andrew Fiddler, Ron Fyfe, Serean Adams, Joel Bowater and all the staff of the Cawthron Institute who made this placement a truly great experience. He would also like to thank the Royal Society of New Zealand for administering Science Teacher Leadership Programme on behalf of the Ministry of Business, Innovation and Employment.