Oakura School - Gillian Mackay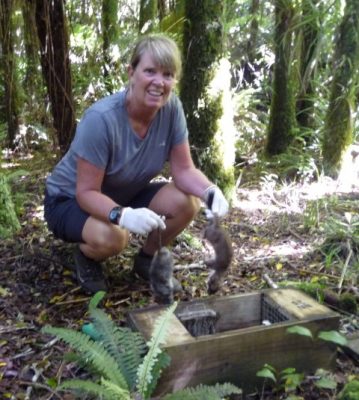 2015 | Preservation of taonga in our backyard
School: Oakura School
Host: Department of Conservation
Region: Taranaki
Gillian is a primary trained teacher working in the junior school at Oakura School in Taranaki. The school's proximity to the mountain, streams and ocean is a great platform for the children's awareness of how to look after and preserve their taonga.
She has been hosted by Callum Lilly, senior biodiversity ranger at New Plymouth's Department of Conservation (DoC). Callum was a constant source of information and willingly shared his vast wealth of knowledge regarding New Zealand's unique biodiversity.
A key focus of Gillian's placement was finding ways to assist the preservation of taonga in our backyard, the mountain and coastal area. Gillian worked alongside a number of biodiversity conservation management programmes on Mt Taranaki and various Taranaki coastal areas containing at risk flora and fauna. These opportunities enabled her to experience the practical use of science in New Zealand conservation.
During her time with DoC, Gillian was privileged to assist in a variety of projects including:
baited underwater video fish monitoring on Tapuae Marine Reserve
locating and caging our threatened native parasitic plants, Dactylanthus
monitoring freshwater fish species
maintenance of coastal herb fields
maui dolphin surveying
managing stoat and possum lines,
checking out possible pest fish sites
monitoring asparagus scandens sprayed areas, Scandia Rosifolia
spinefex and peperomia planting
assisting in retrieving wildlife the public have reported to DoC.
Working with and alongside these passionate and dedicated DoC staff, Gillian was able to see first-hand how the collecting of data, monitoring of sustainability methods and the various techniques used in the field for conservation, restoration and preservation to balance our ecosystems in the best possible methods. Gillian was lucky enough to be working alongside these scientists who have imparted their wealth of knowledge in their particular areas of expertise. The passion and commitment the DoC staff display is a tribute to their ongoing drive in the conservation of our beautiful environment.
Gillian would like to thank all the staff of the New Plymouth Department of Conservation office, and in particular, Callum Lilly who provided her with his valuable time, expertise and knowledge and inhis commitment and support of her learning journey within this six months. Gillian would also like to thank Royal Society of New Zealand for this amazing learning journey.