Papatoetoe High School - Sutapa Mukund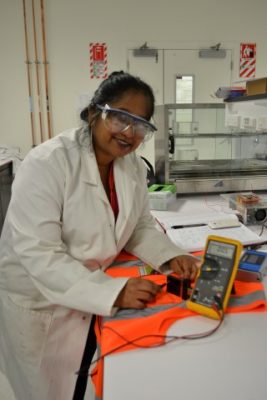 2015 | Razor edge technology with lasers
School: Papatoetoe High School
Host: The Photon Factory, the University of Auckland
Region: Auckland
Spanning a career of 27 years across India, Oman, New Zealand and the USA, Su's desire has always been to culturally integrate her science knowledge with real learning experiences in her secondary science and biology classrooms. She has always loved challenges and has motivated her students to take an interest in Science through Problem Based Learning Projects.
During phase one of the Science Teaching Leadership Programme, she was hosted by the Photon Factory at the University of Auckland lead by the renowned Assistant Professor Dr Cather Simpson. Su's challenge during her placement was to understand the use of lasers in cutting edge technology at the Photon Factory. Su has had several opportunities to attend Colloquiums, Science Workshops and talks hosted by the University of Auckland, including the Mac Diarmid Emerging Scientists – MESA Camp at Kaikoura.
Her individual project included building a credit card sized fluorometer using simple LEDs and LDRs under the guidance of the innovative Honours student Jake Martin. Using this simple instrument, she measured the changing levels of fluorescence in high visibility safety jackets after repeated washes. She hopes to further use this gadget and data in her classroom to enable students to research on the production of long lasting Hi Viz apparel.
Su has also stepped out of her comfort zone from biology and ventured into the world of physics and photonics. Working with scientists who use femto second (10−15 second) laser technology for micromachining and microfluidics, Su has gained an understanding of the applications of LASER technology and how this will revolutionize the world in fine bone surgery in the coming years. Her physics learning has been greatly enhanced with the knowledge of Science involved in the "Doping of Silicon," the uses of "Raman Spectroscopy," as in identifying adulterants like melamine in milk and the uses of "Graphene" that are lowering the costs of our display screens on mobile devices.
Having spent an excitingly new learning journey with a bunch of highly intelligent and very young energetic science experts, Su hopes to take back her real life experience to the classroom and connect her students to rapidly changing technology that is fast shifting from electronics to photonics.
While the curriculum workshops and Leadership Course has provided her with a clear understanding of the Nature of Science Strand, Su feels that she has gained the most from interacting with scientists, especially Dr Simpson ,who displays excellent leadership skills through her methods of critiquing, vision and solid encouragement of the entire Photon Factory team.
She wishes to thank the Ministry of Business, Innovation and Employment for funding this programme.