Red Beach School - Chrissie Floden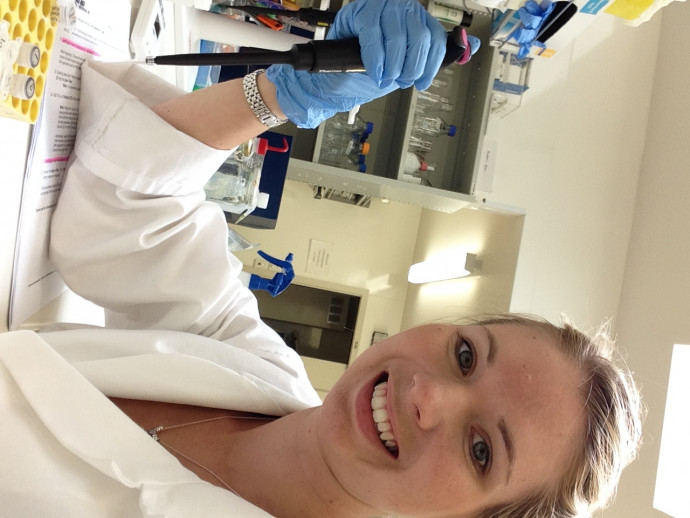 2015 | Aotearoa's soil microbiology
School: Red Beach School
Host: Massey University, Institute of Natural & Mathematical Sciences
Region: Auckland
Chrissie Floden is a primary teacher from Red Beach School. Over the last six months of the Science Teacher Leadership Programme, she has had the opportunity to follow her passion for science, advance her science teaching especially her understanding of the Nature of Science, and develop her leadership skills.
Chrissie was hosted by Dr Austen Ganley, a Senior Lecturer in Genetics and Evolution, from the Institute of Natural and Mathematical Sciences (INMS) at Massey University. During her placement, Chrissie assisted with the Katoa metagenomic study, investigating the microbial diversity of soil samples. This involved learning about and executing molecular biology techniques such as DNA extraction, polymerase chain reaction (PCR) and gel electrophoresis. She also applied these skills to assist in the organisation and sample preparation for a Genetics Workshop, "DNA Detectives", for visiting high school students.
By attending the INMS Seminars and Journal Club, Chrissie got the opportunity to develop an understanding of the significant role that communication and review play in science. She valued the opportunity the seminars gave her to learn about the science research happening at Massey University. Journal Club gave her the chance to read and review current scientific papers, and engage with new and developing scientific knowledge, and new scientific techniques and applications being discovered and developed around the world.
Working alongside the researchers and students from the INMS stimulated valuable learning about the research process for Chrissie which she will incorporate into her teaching and leadership of science. She learnt about formulating productive research questions, the importance of controls and reproducibility to ensure validity of results, accurately interpreting and representing data, and the benefit of collaboration in science. Chrissie also noticed the enthusiasm and passion the researchers had for science, as well as the relevance and purpose their research has to the "big picture" in science.
Chrissie is keen to use her new learning to foster students' curiosity to learn about the amazing world around them through relevant and purposeful science experiences.
Chrissie is very grateful to Dr Austen Ganley and other staff and students from the INMS, Massey University, for sharing their valuable knowledge and time with her. She would like to thank the Royal Society of New Zealand for this wonderful opportunity.