St Mark's Church School - Andrea Pawley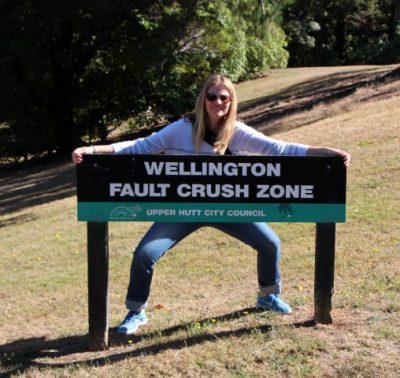 2015 | Geology – fault lines and topography
School: St Mark's Church School
Host: GNS Science
Region: Wellington
Andrea is a primary trained teacher who is passionate about delivering a quality science programme to all children at St Mark's Church School. She is responsible for leading science and has particular interests in nurturing curiosity and interest in science.
She has been hosted by Julian Thomson at GNS Science in Lower Hutt, with the Geological Hazards team, with a focus on fault lines and their impact on topography. The Science Teaching and Leadership Programme (STLP) has given Andrea the opportunity to observe how scientists work and what their role involves. The work at GNS is critical to providing society with knowledge and tools to better prepare themselves in building resilience and planning for a natural event.
During her time at GNS Science Andrea has learnt how scientists formulate questions and make observations, gather and record data collected, observed how that data has been interpreted and recorded through various methods including trench digging on the West Coast, studying core samples, observing sediment under a microscope, drilling into a fault and locating faults in heavily dense bush areas with LIDAR (Laser Infrared Detection Aperture Radar) to identify fault lines. This has enhanced her understanding of the 5 capabilities whilst working in a scientific institution.
Andrea has been able to participate in many learning opportunities during her 6 months, some of these include:
Spending time at the National Isotope Center observing different activities including at the Ice Core Lab.
Participating in a Leadership course with STLP colleagues to build on skills and knowledge.
Speaking with scientists at the Ferrier Institute at Gracefield.
Travelling to the West Coast of New Zealand accompanying geologists on a tour providing evidence to Franz Joseph, Hokitika and Christchurch on an Alpine Fault event occurring.
Visiting Victoria University, Nga Manu Nature Reserve and NIWA with her Wellington Cluster group.
Participating in Curriculum days with the STLP group.
Travelling to Napier to observe Julian Thomson in action with Year 7-10 at the Napier Aquarium and Cape Kidnappers.
Observing topography of the Wairarapa Fault and Pinnacles on the Southern Wairarapa Coast.  
Designing and building a model of a slip fault to better show her students the impact on the land and its features. Through designing and completing the model she was able to show her understanding of the concepts in a way that benefited her knowledge and that of her students.
Andrea thoroughly enjoyed her time on the programme and has accomplished personal and professional growth in her science and leadership skills. She is incredibly grateful and gives her sincere appreciation to Julian Thomson and Dr Ursula Cochrane at GNS Science for their mentoring and support.