St. Peter's Catholic School, Cambridge - Jaco Labuschagne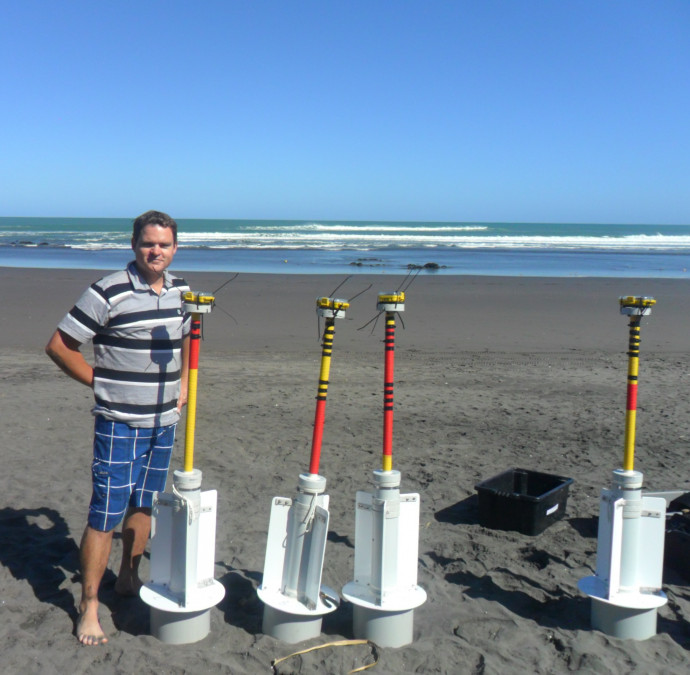 2015 | Understanding our coasts
School: St. Peter's Catholic School, Cambridge
Host: University of Waikato, Faculty of Science & Engineering
Region: Waikato
Jaco was hosted by the University of Waikato's School of Science. He was involved in a number of field trips to collect data for academic research, including:
Assisting in the collection of water samples off a survey boat in Tauranga Harbour to study the effect of dredging on water clarity;
Measuring tree trunks and collecting wood samples to study the force of pyroclastic flows during the Taupo volcanic eruption ~2000 years ago;
Electro-fishing for Koi carp in the wetlands near Te Kauwhata;
Collecting electronic data on methane gas emissions from Lake Okaro using echo sounding and GPS equipment;
Deploying drifters off Raglan's main beach to study rip current flows through GPS and video tracking.
Being hosted by the University of Waikato also allowed Jaco various opportunities to 'see' the nature of science and science capabilities in action. He attended lectures and seminars on a range of science topics. He could join the dots from observations and data gathering through to conclusions and recommendations during these seminars. By being exposed to the nature of science and science capabilities during curriculum development days, he was able to identify these capabilities during the presentations, and the critiquing evidence stages of each seminar.
A highlight for Jaco was following the scientific process after one of his hosts found evidence for a potentially active fault in an excavation within the Hamilton basin. Following this 'observation', scientific process was followed by making inferences, gathering and interpreting data, joining the dots by referring to previously identified sites, and presenting evidence for critique at a seminar. Jaco could observe all the science capabilities in action during this process.
Whilst being at the university, he had informal discussions with visiting academia and other scientists from all over the world, making it a very diverse and rich learning environment to be in.
The Science Teaching Leadership Programme gave him the time to reflect on science teaching and leadership in primary schools, but most importantly, the time to put context around his classroom teaching. He had the time to develop leadership skills and reflect on best practice by visiting other schools.
He thoroughly enjoyed the experience and would recommend it to any teacher who seeks time to gain a new perspective on not only science teaching, but also teaching as a profession. The networks he developed with other participant teachers on the programme will be very important for successful implementation during phase 2 when back at school.