Wanaka Primary School - Jennie Lyall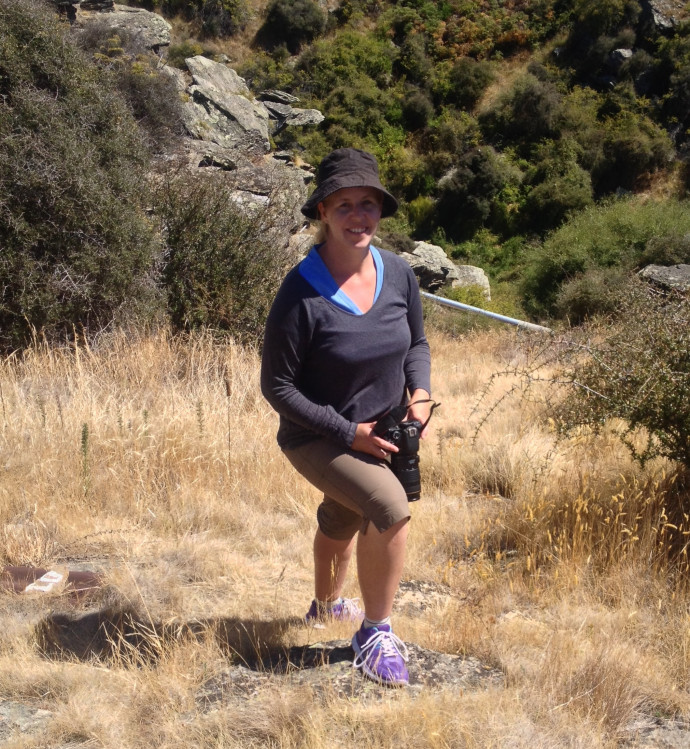 2015 | Grand and Otago skinks: monitoring and communicating
School: Wanaka Primary School
Host: Department of Conservation
Region: Otago
Jennie is a primary trained teacher who studied science at university. She has been teaching for 10 years in various locations around the South Island – Karamea, St Arnaud and Christchurch.  Jennie moved to Wanaka in 2014 and is loving the opportunity to spend more time in the mountains, walking and skiing.
Jennie was hosted by Phil Tisch (Wanaka) and John Keene (Alexandra) at the Department of Conservation. She worked out of the Alexandra office and at the Macraes Conservation Area with the Grand and Otago skink (GAOS) teams in two predator-fenced areas; Macraes and the Mokomoko Dryland Sanctuary near Alexandra.
Jennie's work involved skink monitoring using photo resight methods, pest control, and vegetation monitoring. Towards the end of her placement, Jennie set up some tracking tunnel transect lines to monitor pests in the new predator fenced area at the Mokomoko sanctuary. The results from these lines will help determine the predator trapping actions to prepare the area for the future release of skinks.
During her time in Alexandra, Jennie was privileged to be involved in the release of 13 captive skinks into a new enclosure at DoC. It was fascinating to observe these skinks establishing their their territories and to watch their behaviour at close range. During her placement, Jennie was able to bring some of her students to observe these skinks in the enclosure and loved the opportunity to introduce the skinks and make new connections in science for her school.
Highlights of her placement have included:
Finding pairs of baby skinks with adult skinks during rock outcrop surveys at Macraes Flat.
Visiting fellow Participant teachers at their placements.
Learning to use new equipment – GPS, cameras etc
Gaining her 4WD certificate and driving 4WD vehicles.
The collaboration and connections with her fellow participant teachers
The support provided by the Curriculum Development and Royal Society teams
Learning about the 5 Science Capabilities and how to apply them in the classroom
Jennie also relished the opportunity to work in an outdoor environment and to spend time exploring a new area of the country. She is extremely grateful to the team at the Department of Conservation in Alexandra, Macraes Flat and Wanaka for all the help and support they gave during her time working with them.