Wanganui High School - Steven Mackrell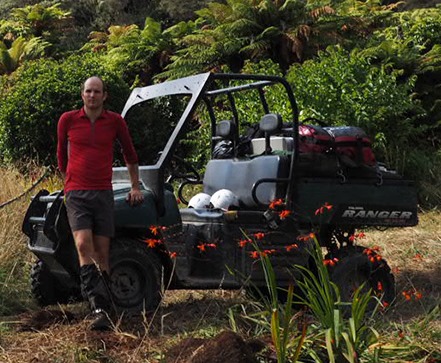 2015 | Conservation management on species diversity in the Wanganui area
School: Wanganui High School
Host: Department of Conservation
Region: Manawatu-Wanganui
Steven Mackrell is the head of Physics at Wanganui High School and holds a Bachelor of Science from the University of Liverpool, and a Post Graduate Diploma in Secondary Education. He has been teaching for over 13 years and has taught in England and New Zealand. He is passionate about science and feels that it is a crucial part of every student's education, now more than ever, and is essential in preparing students to be critical, objective and scientifically literate citizen in the 21stcentury.
Steven has had the privilege of working with the friendly and committed staff of the Wanganui Department of Conservation and has thoroughly enjoyed every minute of it. His work has primarily involved assisting DoC rangers with the work they undertake to protect biodiversity in the region. Much of this field work has been in the beautiful Whanganui national park, one of the largest tracts of lowland forest remaining in the North Island. Steven has been lucky enough to visit by foot, boat and helicopter many remote and beautiful locations in the park including the Matemateāonga range and the Mangapurua area.
During his time with DoC, Steven has, among other things:
Placed, removed and processed tracking tunnels
Checked and cleared pest traps in the Kia Whārite project area
Monitored skink numbers using pitfall traps
Collected data on vegetation browse by goats and deer.
Monitored Kiwi numbers using Kiwi recorders
Spent time with biodiversity planners looking at how regional planning works.
Steven has enjoyed the opportunity the programme has provided for professional development around the New Zealand Curriculum, particularly with regard to the Nature of Science (NOS) and science capabilities. He is sure that the skills he began developing on the residential leadership course will be of great use when leading the redevelopment of the junior science curriculum, sharing his learning in professional development with colleagues, and in future leadership positions. He is looking forward to the challenge of leading the redevelopment of the junior science curriculum upon returning to school and including more nature of science, and local real world contexts to better engage learners.
Steven would like to thank his host coordinator, Les Judd, for her great organizational skills, friendliness and for helping him get the most out of his time with DOC Wanganui. He would also like to the team at the Royal Society New Zealand for support throughout the programme.