ACG Parnell College – Michael Breckell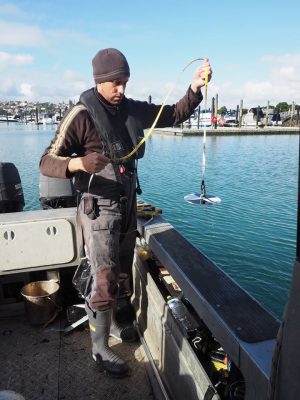 2016 | Air and water quality
School: ACG Parnell College
Host: NIWA, Auckland
Region: Auckland
Michael's participation in the Science Teaching Leadership Programme allowed him to experience life as a real scientist and to be involved in environmental science first hand. He will be able to share these experiences with students and staff so that they can then be incorporated into teaching and learning. ACG Parnell College also hopes to further develop links with the scientific community so their students can be exposed to authentic science skills and attitudes.
Michael was hosted by the National Institute of Water and Atmosphere in Auckland. One of the many projects he helped with was the Community Observation Networks for Air. The project is a trial of new indoor monitoring technologies – ODIN. Michael had the opportunity to immerse himself in the world of micro computing and significantly contribute to the design and build of the latest version of the in-home kits. These kits will be deployed in the Rangiora area this winter and will measure Air Quality as a result of using wood-burners in the area. 
In addition, Michael worked closely with the Fisheries group at NIWA where he collected raw data for the Kahawai catch-at-length and catch-at-age monitoring program. He honed his dissection skills by cutting Kahawai heads to obtain the otolith, which could then be used to age the fish. He also spent time in and around the Hauraki Gulf during a port survey on invasive species in the area.
He has enjoyed these experiences and many others. They provided a real world experience of science and offered opportunities to gain a better understanding of how scientists work in the field. The emphasis on using new technologies and the importance of the peer-review process has given Michael new perspectives on how to engage students in the classroom.
Upon returning to Parnell College, Michael will be able to use the leadership skills and knowledge gained from the programme to raise the profile of the Nature of Science stand from the New Zealand curriculum. There will be the opportunity to inform colleagues and to enhance units of work in this area in years 7 to10 science. The science faculty's aim is to engage their students in science and develop students' knowledge of how scientists work so they can think critically about science and are able to participate in a society where science plays a significant role.
Michael has had a total of 10 years teaching and his goal is to make science fun, meaningful and relevant to all students.