Hastings Intermediate School – Sarah Hope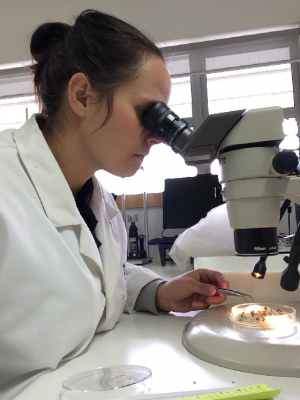 2016 | Crop production & pipfruit breeding research programmes
School: Hastings Intermediate School
Host: Plant and Food Research
Region: Hawkes Bay
Hastings Intermediate (HIS) believes that all students should be exposed to regular 'real world' science activities in order for students to build a firm foundation of science skills and knowledge before they leave primary school education. This aim is reflected in the school's work with contributing secondary schools to plan programmes, and by their weekly science lessons delivered by specialist science teachers. HIS already have one teacher, Murray Gosling, who is currently leading phase two of the Science Teaching Leadership Programme. Having a second teacher with the same opportunity will enhance their chances for continuity over time. It will also enable HIS's science leadership team to move their professional development on with greater depth and understanding of the Nature of Science.
Sarah has nine years primary and secondary teaching experience. During this time, she has had the opportunity to teach students from a diverse range of subjects, year levels, abilities and cultural backgrounds. She has a background in Music and the Arts, and is passionate about motivating students through engaging, hands-on activities.
Sarah has been hosted by Dr Bruce Searle, a scientist in the crop production team at Plant and Food Research Hawke's Bay. Her placement has included being fully involved in lab tests of beetroot and pea seeds, field trials with pea seeds, pollinating apple trees for the pip breeding programmes, data collection of grape plant growth, and assisting in onion field trials. Sarah has also learnt how to use two computer analysis software programmes, SmartGrain and Easy Leaf Area, in order to collect data to inform results from the pea and beetroot seed investigations. These experiences have given her a comprehensive base of knowledge of how different seed experiments can be carried out, and what important factors need to be managed. It has also enabled her to observe engagement in the Nature of Science as she has been involved in conversations with various scientists whilst carrying out investigations.
 A highlight for Sarah during her placement was successfully mastering the two software programmes after weeks of trial and error to provide the team with the collected data for analysis. The lengthy process required her to think laterally about problem solving. To reflect on her learning, she put together a 'tip sheet' for anyone who might use the programme next. Sarah participated in beetroot and pea seed lab and field trials to investigate growth rates in relation to seed weight. These investigations involve the stakeholder as the motivating factor to find out how seeds grow best, and is thus a good example of the Nature of Science in a real world context.   
The Science Teaching Leadership Programme has provided Sarah with a fantastic professional learning journey. She is looking forward to applying this learning to Hastings Intermediate School along with Murray Gosling (another participant teacher) to create a sustainable science literacy programme together. She would like to thank The Royal Society of New Zealand, Plant & Food Research and Hastings Intermediate School for investing in her.