Hawea Flat School – Heather Maxwell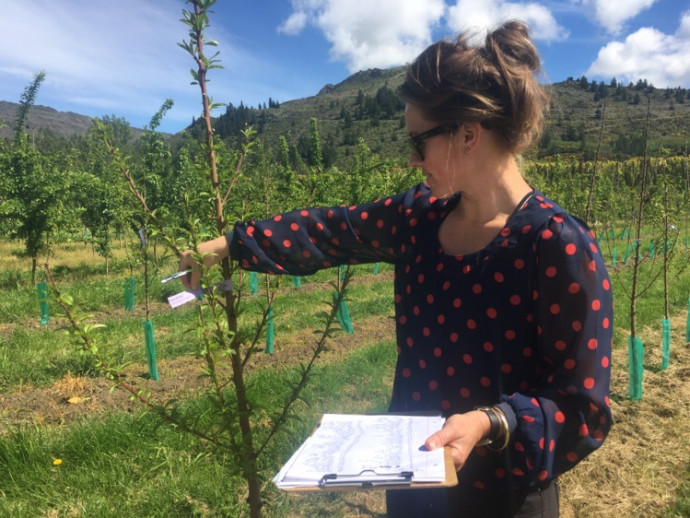 2016 | Science for tomorrow, today
School: Hawea Flat School
Host: Plant and Food Research, Clyde
Region: Otago
Hawea Flat School was part of the Central Otago Science Cluster Group (Ministry of Education contract). The focus was on building teacher capabilities and understanding around the Nature of Science from 2014 through to 2015. Consultation with students and the wider school community identified science as an area to focus on and their strategic plan reflects this. The Science Teaching Leadership Programme will provide more in-depth development of teacher capabilities and their understanding of the Nature of Science as well as provide the leadership skills necessary to facilitate this focus moving forward. The schools want their children to leave Hawea Flat School with a sense of wonderment, curiosity, and the skills to inquire, and it believes a strong science curriculum will help to achieve this goal.
Heather has nine years primary teaching experience. In this time, she has had the opportunity to educate children in many different settings: state and private schooling within New Zealand and abroad, and across a range of year levels, abilities and cultural backgrounds. Heather has a particular interest in engaging children and getting them to question, challenge, and provoke a life-long learning expectation. Her primary objective in the Science Teaching Leadership Program is to increase her leadership capacity so that she can extend her natural love of science from her own classroom curriculum to across Hawea Flat School.
In the first phase of the programme, Heather has been actively involved with her host, the Institute of Plant and Food at Clyde. During this time, she has worked closely with scientists to develop an awareness and appreciation for how scientists work and the research currently being undertaken in the Central Otago Region. She was fortunate enough to experience a diverse and rich range of research such as:
Fungicide resistance of Botrytis spp. from overwintered trees and ground tissues in Central Otago cherry orchards. Collecting samples from cherry orchards representing different cherry growing regions and two export cherry varieties ('Sweetheart' and 'Lapins'). As part of a three-year sustainable farming fund project, scientists are hoping to gain best practice in the control of Botrytis in export cherries.
Combing pollen from buds forced to bloom in the laboratory and hand pollinating trees.
Irradicating and trapping of coddling moths in apple trees.
Analysing cherry and apricot blossoms in the Future Orchard Plating System (FOPS) to determine tree precocity and potential for crop yield.
Understanding and capturing wilding cultivars of almond, apricot, cherry and plum plants that were planted when Central Otago was first established. This experience is harnessing the genetic diversity to breed more resilient stonefruits and rootstocks.
Testing apricot cultivars in a laboratory to determine their titratable acidity over varying harvest timings, maturities and storage.
All these experiences have been insightful and relevant in the locality renowned for its summer fruit. This first-hand exposure has also ensured the potential for valuable networking and the opportunity to generate sustainable links between schools and the science community.
In the wider programme, Heather learnt how to maximise student learning through strategic questioning and specific skill focuses that target how scientists work using practical activities to build towards big science ideas. Engaging students in pertinent and authentic science experiences will enable students to get involved in citizen science projects where they will be making real contributions to their community.
Heather would like to extend her gratitude to the researchers at Plant and Food Research Clyde, in particular, Kate Colhoun, Arlene Nixon, Jill Stanley, Bernie Attfield and Claire Scofield for their generous time, knowledge sharing and guidance in their fields of expertise. She remains most grateful to the Royal Society of New Zealand for their advice and support in enabling this invaluable learning experience.