Matipo Primary School – Leanne Watson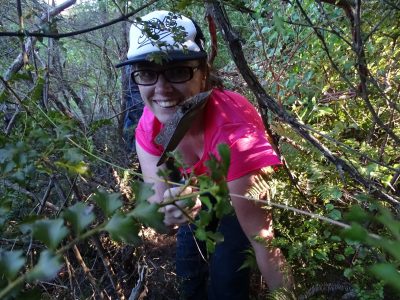 2016 | What a wonderful world of birds!
School: Matipo Primary School
Host: Unitec
Region: Auckland
For Matipo Primary School on the Te Atatu Peninsula, having a participant teacher on the Science Teaching Leadership Programme is a step towards enhancing the teaching of science within the school. This supports Matipo School's vision of delivering a balanced curriculum that meets the needs of all students. Matipo Primary School values parental and community involvement and hopes by the end of the programme to have developed community networks to aid teachers and children in their understanding of science in the real world. The school hopes that through participating in the programme all teachers at the school will become enthusiastic and confident teachers of Science.
Leanne Watson is a Primary School teacher at Matipo Primary School in Te Atatu Peninsula, West Auckland. She has a love of nature and being outdoors, and initially studied Science at Otago University, leaving with a Bachelors Degree in Zoology in 2005. She has thoroughly enjoyed the challenge and excitement of merging her scientific knowledge with classroom teaching, and is eager to return to school and inspire both teachers and students to become more engaged in science teaching and learning.  
Leanne has been hosted by Senior Lecturer and Ornithologist Mel Galbraith at Unitec Institute of Technology. Mel is an experienced high school teacher, as well as having a wealth of knowledge in conservation and natural history. He is involved in a number of conservation and restoration projects around greater Auckland and specialises in ornithology.
During her placement at Unitec, Leanne was able to participate in a variety of lectures, workshops, field trips and labs, working alongside students and lecturers. This experience gave her a deeper understanding of scientific processes, particularly in regards to collection and sampling techniques for the biological sciences.
A highlight for Leanne has been participating in a preliminary study into the feeding habits of Black Backed Gulls in the greater Auckland area. She undertook sampling through the collection of pellets (regurgitated matter) from three areas; Western Springs, Rangitoto Island and Tiritiri Matangi Island. Leanne's research culminated in the development and presentation of a research poster which her and Mel presented at the annual New Zealand Birds Ornithological Conference in Napier.
Whilst on the science teaching leadership programme Leanne has found it extremely valuable to reach out to members of the scientific community. She has had the time to network with scientists and research citizen science programs her school may be able to participate in. Visiting other primary schools and teachers has given Leanne lots of ideas about how her school's science curriculum could be improved for the better. Leanne is excited to continue to network with these professionals to create real life, enriching experiences for her students.  
Leanne would like to thank the Royal Society of New Zealand for their administration of the Science Teaching Leadership Programme, which she believes has been a career-changing, enriching experience. She also wishes to thank Mel Galbraith and the staff at Unitec Institute of Technology for welcoming her into their organisation and giving her the experiences and knowledge that will inform her science teaching into the future.