Northern Southland College – Janelle Eason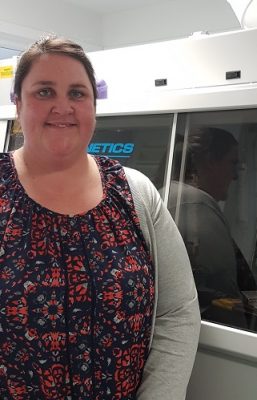 2016 | Biogeochemical cycling – trace elements in life
School: Northern Southland College
Host: Department of Geology at the University of Otago
Region: Southland
Northern Southland College is a small rural school in the Waimea Valley in Southland. They are situated in a unique geographical location and have a multitude of science learning opportunities available to them in the surrounding area. The school believes that science needs to be relevant and taught within a meaningful framework. Science should encourage students to be inquisitive, life-long learners and enable them to make informed decisions.
Janelle Eason is Head of Science at Northern Southland College and has been teaching there for the past nine years. She has taught Science and Biology to all year levels from Year 7 to Year 13. She is passionate about science education and the communication of knowledge and ideas between teachers and students and the wider community. She is also interested in scientific literacy and providing students with the skills to read and understand scientific texts.
Janelle has been placed in the Department of Geology at the University of Otago where she has been working with Dr Candace Martin and Dr Mike Palin who are Geochemists. Janelle has immersed herself in the Geology department and has attended undergraduate and postgraduate lectures, labs and fieldtrips. She has also worked with students and faculty staff to gain a better understanding of the research being done in the department and its application to the wider community. Along with various other projects such as core sampling and sample preparation Janelle has also assisted with research into the analysis of strontium isotopes from freshwater mussel shells from the Otago area.
The highlight for Janelle during her placement at the Geology Department has been attending a first year field trip to study the Dunedin Sequence.
By being a participant on this programme Janelle has gained a much better understanding of how science is conducted and communicated, not only to other scientists but also non-scientists. She is looking forward to returning to her school to involve the students in more relevant and engaging science using what she has learnt about the science capabilities and the nature of science during this placement.
Janelle would like to thank the team at the Royal Society of New Zealand and the Ministry of Business, Innovation and Employment for making this learning experience possible.  She would also like to thank Dr Candace Martin and Dr Mike Palin and the staff and students of the Geology Department at Otago University for making her placement as engaging and interesting as it was.