Opunake School – Sally Potroz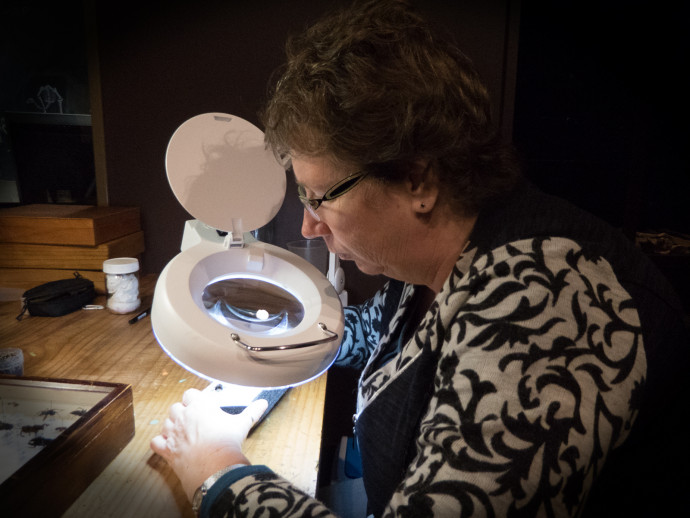 2016 | Natural history – beetles, bones and other bits
School: Opunake Primary School
Host: Whanganui Regional Musuem
Region: Manawatu-Wanganui
Opunake Primary School is part of a cluster of schools (MOA Kluster) who are embarking on STEM programmes and they see this as an opportunity to enhance and strengthen teacher pedagogy. The school views this as an opportunity for teachers and students to learn how scientists work in the real world. They have already developed a STEM strategic plan and a MOA Kluster strategic plan so the school has a clear understanding and pathway for the direction they want to take the school in. The Science Leadership Programme fits with this vision and strategic direction. Opuanke Primary School wants to build one teacher's capacity to lead science effectively in the school, based on current good practice. The school also sees this as an opportunity to develop a teacher's leadership capabilities and grow their skills and pedagogy as a science teacher.
Sally has had fifteen plus years primary teaching experience. During this time, she has had the opportunity to teach children in a range of schools, both rural and urban. She has also taught a range of year levels and abilities including special needs classes. Sally has a background in literacy, is a trained reading recovery teacher, and leads the phonics programme at Opunake Primary School. She is looking forward to providing the literacy and language skills needed for children to successfully engage in science and to access a wonderful science curriculum.
Sally has been hosted by Dr Mike Dickison, Curator of Natural History, at the Whanganui Regional Museum. Her placement has involved packing, cataloguing and safe storage of the natural history specimens for the earthquake strengthening at the museum, field research to collect invertebrates in forest remnant patches, pinning and preparing the specimens to add to the museums natural history collection, taking part in discussions with visiting scientists, participating in science lessons held by the educators at the museum (including within the museum and on field trips), assisting with various aspects of the Hihi recovery programme at Bushy Park, accompanying the host on various talks to groups in Whanganui and giving feedback and suggestions on the talks.
This placement has given her a greater understanding of the role of Natural History collections in science research. It has also enabled her to observe the Nature of Science and Science Capabilities in a "real world" situation and to discuss this with her host.
A highlight for Sally during her placement was the collection and preparing for storage the invertebrates found during the field work. Pitfall traps, live traps and kill traps were set in forest remnant patches around Whanganui. Each week these traps were emptied and taken to the museum. The specimens were the humanely killed and processed for storage, either pinned out or in alcohol. Sally assisted with the identification of specimens.
The Science Teaching Leadership Programme has provided Sally with an amazing professional learning journey. She is looking forward to getting back into the classroom and sharing this learning with the staff, students and community of Opunake Primary School.  Sally would like to thank The Royal Society of New Zealand, Dr Mike Dickison, the Whanganui Regional Museum, and Opunake Primary School for this wonderful opportunity in learning.