Wanaka Primary School – Sharon Pendlebury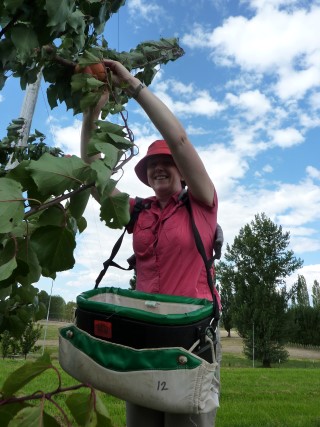 2016 | From the ground up – fruit production in our locality
School: Wanaka Primary School
Host: The New Zealand Institute of Plant and Food Research – Clyde
Region: Otago
Wanaka Primary School feels privileged to have a second teacher embark upon the Science Teaching Leadership Programme. Jennie Lyall took part in the programme in terms one and two in 2015, and Sharon will work alongside Jennie to continue the advancement of the school's science curriculum plan, helping students to engage critically with science and build upon their knowledge and capabilities. The school is  looking forward to the continuing passion and excitement that Sharon will bring to its school science programme as it further develops science initiatives, such as the creation of a science interactive playground to promote curiosity. Sharon's work will also create further engagement with the community and links with environmentalists and science organisations.
Sharon, who has been teaching for over 20 years, is passionate about engaging young children in purposeful and authentic science learning.
Sharon was hosted by Plant and Food Research Centre at Clyde. She has been working alongside Arlene Nixon on an apricot breeding programme that uses genetics to develop potential cultivars for the fruit industry and export markets. This involved collecting data through the harvest and assessment of seedlings and stage 2 breeding material, mapping populations and selecting buds from promising cultivars. Sharon has learnt about how the hand pollination of selected trees for cross breeding is carried out. This has developed her understanding of how, by the very nature of genetics, patience and resilience are required to work towards desired outcomes. She has gained a clear understanding of how the science behind fruit breeding and physiology impacts growers, consumers, and international trade. Sharon has gained an understanding of orchard management issues and learnt about the methods of control for pests and disease.
Sharon's placement has enabled her to observe first-hand how the work scientists do relates to Nature of Science objectives and capabilities. Gathering and using evidence are key elements of the work carried out on the apricot breeding programme. Many years of data are used to establish the stability of trees and continuity of fruit quality. There can be variations due to weather patterns, increased incidence of pests or disease or location of trees. The scientists at Clyde often debate these factors and Sharon found it beneficial to observe how critiquing evidence looks in the real world of science and orchard fruit production.
Through her work with Arlene and the rest of the staff at Plant and Food Research in Clyde, Sharon has gained a valuable partner in helping her to connect learning at school with the work of real scientists in the community. Plans to establish an orchard are underway, providing opportunities for pupils to study horticulture in a relevant context. A potential project on monitoring and control of codling moth is also being developed and Sharon is looking forward to the continuing relationship between her host and school.
Sharon would like to thank the team at the Royal Society of New Zealand, and Executive Education, University of Otago, for giving her the opportunity to extend her experience, open her mind and expand her vision.
Thanks and appreciation is extended to all the staff at Plant and Food Research in Clyde, who have openly shared their experience and time. Sharon would especially like to thank Arlene, for guiding her on this inspiring journey and sharing her passion for science, literature, art and adventure.
Participation in the Science Teacher Leadership Programme has been a highly rewarding experience that will continue to bring benefits to our school and community.