Wellington East Girls' College - Alana Cockburn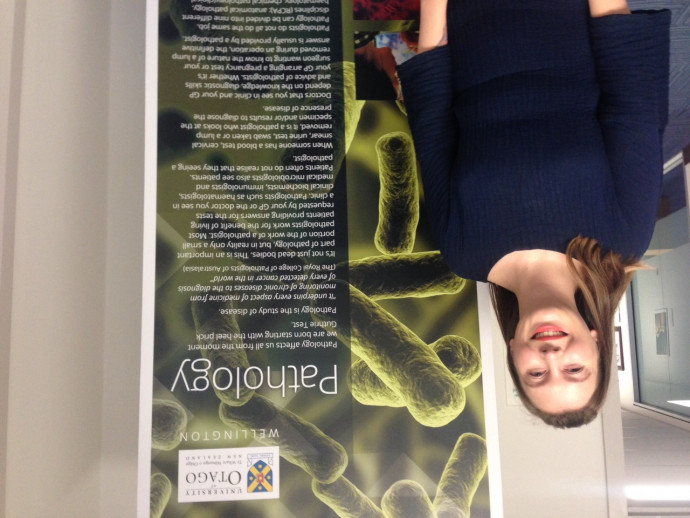 2018 | Small but deadly; the world of pathology and molecular medicine
School: Wellington East Girls' College
Host: University of Otago, Wellington Department of Pathology and Molecular Medicine
Region: Wellington
The Wellington East Girls' College Science Department is creative and collaborative and believes learning in junior science is about making sense of the world through scientific reasoning to become informed citizens. This is supported through an integrated approach to learning in Year 9 where teachers work across curriculum areas and undertake project based learning.
Alana has had six years' teaching experience in junior science and senior biology. She is passionate about science and the importance of equipping young people with the capabilities to bring a scientific perspective to decision making in their lives and as citizens. She is curious and reflective, looking for new opportunities to make programmes relevant and meaningful.
Alana's placement has involved working alongside scientists Wellington Department of Pathology and Molecular Medicine at the University of Otago, who are involved in a number of projects in medical, biomedical and education research. During her time there, Alana attended Pathology lectures, shadowed a Pathology Assistant at Wellington Regional Hospital, visited biomedical research facilities and assisted with data collection for research. Through her host experiences, she has learnt about the interconnectedness of immunology, microbiology and genetics and has developed a strong mental model of human anatomy and the human body systems for health.
The Science Teaching Leadership Programme has given Alana the opportunity to grapple with some of the burning issues our learners will need to meet in the future in the fields of disease, medicine and the dispositions and skills they will require to tackle them as excellent scientists. By building ongoing relationships with scientists, learners at Wellington East Girls' College will gain a greater understanding of how scientists work.
By growing her leadership capabilities through the Enhancing Leadership course and mentoring from scientific leaders, she feels prepared to support the transition of the science department into modern learning environments in 2019 with a future focused, Nature of Science centered curriculum.
Alana would like to thank Dr. Diane Kenwright and Dr. Dianne Sika-Paotonu Wellington Medical School's department of Pathology and Molecular Medicine, and continuing to work with them in the future.