Hamilton East School - Georgia Cox-Wright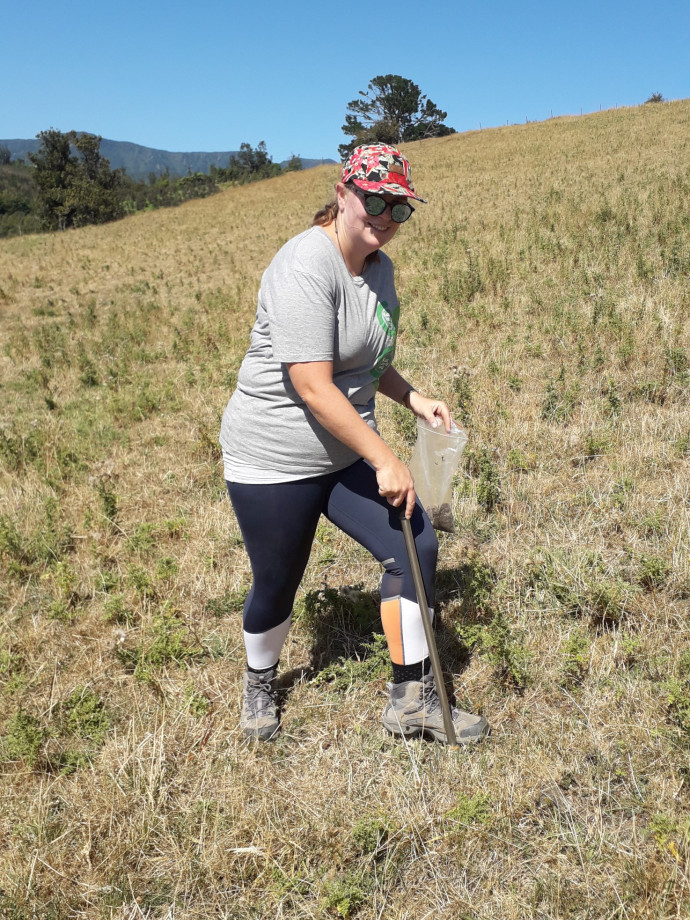 2020 | Mātauranga Māori focused science
School: Hamilton East School
Host: AgResearch, Ruakura Mātai Ahuwhenua team
Region: Waikato
Hamilton East School is invested in the Science Teaching Leadership Programme to build on the school's culture of environmentally focussed education, and curiosity. Collaboration, between Edie (2019 participant teacher) and Georgia will further promote science as a context, and build the Nature of Science capabilities. Together, Edie and Georgia will be able to successfully embed over the long term explicit science teaching across the curriculum, and across all year groups. Georgia's host placement, observing the mahi of a Crown Research Institute (CRI) alongside mātauranga Māori, also fits with the increased use of Te Reo me ona tikanga. This will support dual perspectives of Te Ao Māori and science at Hamilton East.
Georgia has had 7 years primary teaching experience. During this time, she has taught in South Auckland, Raglan and Hamilton, at both rural and urban kura. Georgia has mostly taught Year 4-6 in this time, but has worked alongside other year levels in extra-curricular areas. She has a historical connection and passion for the community at Hamilton East School as it is her turangawaewae. Tamariki at Hamilton East come from a diverse range of cultural and socio-economic backgrounds. Georgia has a background in research and science, having completed psychology degrees, prior to her teacher training. She is passionate about learner agency and facilitating life-long learning, particularly through the use of technologies and robust literacy. Biculturalism is also at the forefront of Georgia's teaching. She uses Te Reo Māori daily and seeks to promote a Te Ao Māori perspective with her colleagues and ākonga.
Georgia's host placement was at AgResearch alongside the Māori agribusiness team. She was involved in the communication and collaboration between Māori agribusiness partners and AgResearch's scientists, both in seeking grant funding and ensuring a holistic Te Ao Māori view is considered and endorsed. She had opportunities to work with team leaders, account managers, scientists and technicians. A significant focus of her placement was the co-development of research with Māori stakeholders, and the frameworks used by AgResearch to achieve this. Participating in field work on AgResearch farms and others around Waikato helped Georgia to learn about the process involved in gathering data accurately and how it is then interpreted. She discovered some interpretation happens during the gathering stage. She learned about using and critiquing evidence by listening to scientists discussing and sharing their work.
A particular highlight was working with livestock to see if they could be enticed to add pest-plants to their diet. Georgia also got to see the AgResearch laboratories and offices when she attended a networking opportunity in Ōtautahi. On Georgia's placement, she learned about the social science of agri-research. This included providing feedback on a set of survey questions designed to find out about Māori who go into STEM careers and their opportunities and barriers along the way. Another exciting experience for Georgia was going to a Māori farm in the Waikato. This visit was the beginning of a collaboration with AgResearch's Mātai Ahuwhenua team and farm systems scientists. This real-life engagement of science in the community showed Georgia the potential for many stakeholders in a farm 'eco-system' to contribute to its future success. It also demonstrated the benefits of using mātauranga Māori of the whenua with the knowledge and skills of other scientists. Māori have been creating knowledge and skills to understand their land and the world around them as scientists since they came to Aotearoa.
Attending the leadership course at Otago Business School was a valuable opportunity for Georgia to consider her own leadership philosophy and gain strategies for leading science. Staying at Tirorangi Marae was a truly magical and challenging experience that helped Georgia continue to grow her understanding of Te Ao Māori. This, together with her developing understanding of the New Zealand curriculum's Nature of Science strand, and the time for insightful thought, readings and networking has prepared Georgia to go back to school and embed science in Hamilton East's curriculum.
More on Georgia's professional learning journey.