Aorere College - Chloe Innes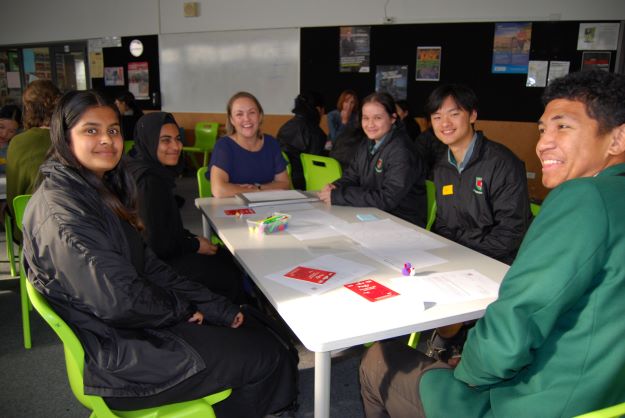 2021 | Keeping the Doors Open
School: Aorere College
Hosts: Te Kupenga Hauora Māori
Aorere College believes that they will benefit from their participation in the Science Teacher Leadership Training Programme as it will enable the school to connect with leading Māori scientists and teaching fellows from Te Kupenga Hauora Māori at the University of Auckland. Establishing these connections and participating in professional development will enable the science department to continue with their junior curriculum reform.
Aorere College aims to increase the retention of Māori and Pasifika in senior sciences, therefore allowing more students an opportunity to pursue a science related career. The science teaching team at Aorere College have been actively working on improving their teaching programmes for year 9-13 students, learning to embed authentic Mātauranga contexts into their teaching programmes and engaging with mana whenua to improve their teaching practice and understanding of Mātauranga. The team look forward to working with Chloe, upon her return to school, to further develop their understanding and teaching of the Nature of Science and Mātauranga in a science context.
Chloe has taught for nine years and is passionate about teaching science and making it come alive for her students. Her key focus for a number of years has been to engage and improve educational outcomes for Māori and Pasifika learners at her school.
Chloe was hosted by Te Kupenga Hauora Māori, the Department of Māori Health and the Office of Tumuaki at the University of Auckland. While placed at Te Kupenga Hauora Māori, Chloe participated in Hikitia te Ora, an Indigenous (Māori and Pacific) Foundational Bridging Programme at the University of Auckland. Some key aims of the programme are retention and academic success for Māori and Pacific students to build capacity for the future health workforce.
As a part of her placement, Chloe had the opportunity to observe excellent pedagogy in the Hikitia Te Ora and Post Graduate Maori Health Programmes, she had the opportunity to kōrero with Māori researchers working in health and cancer research, she was able to see the state of the art cancer research facilities at the Auckland Cancer Society Research Centre at the University of Auckland and meet with scientists at both the School of Environment and the Aquaculture Biotechnology Group at the Auckland University of Technology. Chloe was also able to help facilitate a rangatahi hui at Aorere College to help inform research about antimicrobial resistance and the implications in New Zealand.
These experiences have enhanced Chloe's understanding of the Nature of Science and how science is conducted in the health context in New Zealand.
Chloe is very grateful to the Hikitia Te Ora professional teaching fellows and the broader Te Kupenga Hauora Māori team for allowing her to participate in the certificate programme and learn from them. Special thanks also go to Professor Kathy Campbell from the School of Environment at The University of Auckland for including her in lectures, labs and hui with other leading scientists.