Nelson College - Mark Chamberlain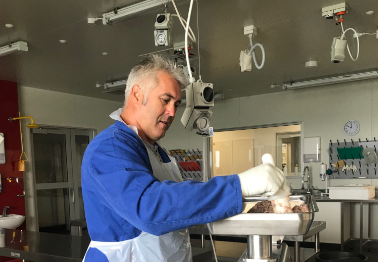 2021 | Extracting the fun out of Science
School: Nelson College
Region: Nelson
Host: Plant and Food Research
Nelson College has always been a strong science educator with a passionate, experienced and dedicated department providing strong junior and senior science curriculum across all subjects, from year 9 up to scholarship. With Johnnie Fraser completing the STLP in 2016, the college has been building its capabilities around the nature of science in the junior curriculum area, focusing on science capabilities and real life, relatable science. Having Mark go through this programme will help to strengthen that focus, and help the school work towards its goal of being one of the leading secondary science educators in New Zealand.
Mark has over 20 years' experience teaching secondary science in the classroom across several senior subjects including: Biology, Agriculture and Horticulture Science and Earth and Space Science. He has been able to incorporate his passions of music, scuba diving and tramping into his teaching experiences through school bands, dive courses and school camps.
Mark Has been hosted by Dr Susan Marshall at Plant and Food Research Rangahau Ahumara Kai in Nelson. His placement has enabled him to be involved in a range of exciting, engaging hands-on experiences including; extracting digestive enzymes from fish gut and analysing their digestive capacity on a range of protein substrates using spectrophotometry techniques, lipid extraction of food and nutraceutical products using assay protocols, finfish sampling in land-based aquaculture tanks in the finfish research centre, gathering environmental data from open aquaculture research sea cages, collagen extraction from fish skins and subsequent nutraceutical product development. Mark has also assisted with the development of the inaugural Secondary Schools Science Outreach programme which ran a highly successful student experience in the laboratory. By using scientific skills of observation, data collection and processing and writing reports based on findings, Mark has been fully immersed in all aspects of the Nature of Science. Mark has developed his knowledge and understanding of biochemical processes as they pertain to fish enzyme activity and protein and lipid extraction in relation to nutraceutical product testing and development. He also has a better understanding of the processes involved in land-based aquaculture.
Some key highlights for Mark have included:
Heading out on the water to Beatrix Bay to visit the open water aquaculture sea cages where initial research is being done to grow fish such as snapper and trevally in sea cages in the open ocean. This work is of national significance and paves the way for expanding the number of sustainable aquaculture fish species able to be farmed in the open ocean across Aoteroa in the future.
Being given the opportunity to run a full assay analysis on fish feed pellets from start to finish. This involved invitro digestion using fish enzyme extract in a buffer solution to maintain constant pH and analysing enzyme digestion activity in the spectrophotometer to generate a quantitative analysis.
Being provided the opportunity to work as part of a team of scientists who are leaders in their field both nationally and internationally and who are building a more sustainable fishing industry through the development of innovative of technologies to develop alternative fish products and nutraceuticals which utilise the whole fish and not just the fillets.
Mark has really enjoyed his time with his host and developed some close relationships. He would like to take this opportunity to thank his host supervisor Dr Susan Marshall along with the rest of the science team at Plant and Food Research Rangahau Ahumara Kai Nelson for being so welcoming and providing so many opportunities for him to be engaged in many science activities as well as spending time with him explaining, demonstrating and mentoring.