Rolleston College - Jamie Buckland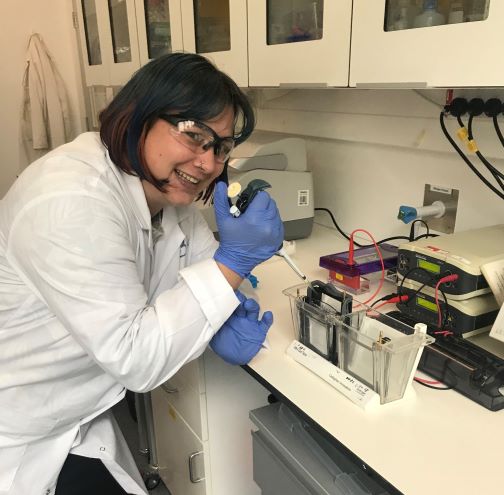 2021 | Let me take a Cell-fie – Genetic engineering and recombinant cell culture in Aotearoa
School: Rolleston College
Hosts: Callaghan Innovation
Rolleston College has a vision for students to leave the school with an understanding of what science is about, and that it is everywhere. Rolleston College strives for students to be productive and scientifically literate members of society who can make informed decisions in their lives, as well as leading the people around them to make informed decisions.
Jamie Buckland is the first teacher at the college to complete the Science Teaching Leadership Programme. On return to school, Jamie will be looking at developing the science junior plans so they are more structured around the Nature of Science, and making strong connections to other learning areas. She will also be looking at how to grow capacity in the non-science teachers in the junior connected programme to help them to be more confident with science.
Jamie has been passionate about science since she was in school herself, and she has always intended for science to be an important part of her career. When she began working in the science industry, she discovered that not only did she have a passion for learning science for herself, but she also loved sharing that knowledge with others. Her experience with mentoring interns showed her that teaching could be a viable career path for her, and she has loved teaching ever since.
Jamie has been hosted by Andrew Muscroft Taylor at Callaghan Innovation, where she has been working with the Protein Science and Engineering team. Her placement has involved her working alongside microbiologists and biochemists to alter part of the Covid-19 spike protein for a client wanting to produce a front-line immunity test. She has also had the opportunity to work with staff from the University of Canterbury School of Biological Sciences , and to meet engineers at a range of Callaghan Innovation sites across the country. Jamie's day-to-day work has involved working in a Physical Containment (level 2) lab, where she has been engineering E.coli cells to produce specific proteins, and experimenting with reagents to alter the Covid-19 spike protein. This has included a lot of iterative processes as experiments are adjusted and repeated to solve issues. Jamie has also been learning to use technology to measure and purify proteins and has been interested in the techniques that scientists use to measure things that are too small to be observed with our normal senses. Outside of the lab, Jamie has also had the opportunity to look for weta at the Cass research station, observe jumping spider behaviour, experiment with photosynthesising jelly balls, and drive a collaborative robot!
One of the highlights of Jamie's placement has been the ability to take a step back from the specific content of an experiment, and observe the thought process behind working scientifically. She has talked with her colleagues about knowing the limitations of scientific equipment and being skeptical of the results they display if it isn't adding up with your knowledge of the process. She has been able to see the clear distinction between observation and inference when troubleshooting an experiment and she has seen how scientists work collaboratively when they are trying to solve a problem. Though the techniques she has been working with are too complex and expensive to take back to the classroom, she has enjoyed looking for ways she can turn the principles of 'working like a scientist' into activities for her students.
Being a part of the Science Teaching Leadership Programme has allowed Jamie to focus on what it means to be a scientist, and to develop leadership skills that will allow her to work in collaboration with her team to make changes to the science program at Rolleston College. She has enjoyed robust conversations around the nature of science, science capabilities, and the similarities and differences between primary and secondary science pedagogy. The Leadership training has also helped Jamie to identify the key values that drive her to improve as a science teacher.