Waihi College - Nicole Clare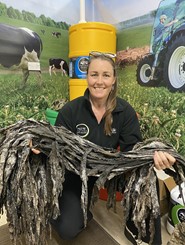 2021 | From sea to soil, regenerating Papatūānuku
School: Waihi College
Region: Waikato
Host: Agrisea New Zealand Seaweed
Waihi College has had a long standing and successful relationship with Science learning in and around their local area, and believe creative and innovative Science Teaching Leadership is critical in their kura tuarua. Students are taught in the junior programme through a connected curriculum that encourages them to make connections not just with other subjects, but to the world around them; what matters to them and how they and science can make a difference. At Waihi College, they encourage their teachers to deliver learning across multiple curriculum areas. This is delivered in "real world" contexts which equips students with the tools that they need to problem solve in all sorts of situations. They believe in curriculum delivery that begins in their students' local communities, and embraces mātauranga Māori to enhance, complement and develop the learning that takes place for their unique students who live in their beautiful rural area.
The vision for Science in Waihi College is for every student to see the relevance of their learning and how it is connected to life beyond school. Through Nicole's participation in the Science Teaching Leadership Programme, they hope to develop their connections with the local science community and create defined and accessible pathways for their students to explore a wide variety of science-based careers in their local area and beyond. They know that Nicole will return enriched with new insights and skills which will provide many professional development opportunities for their staff resulting in their teachers seeing the need to explore different approaches to make learning relevant and enjoyable for all their students. They want every teacher to not only build the knowledge of science, but also build the capabilities of every student to use what they learn in science and apply it to whatever circumstance that they are in. Nicole will help to lead a collaborative 'project based' learning program for Year 9 and 10 students which will not only involve school-based learning but also coordination and connected with real life learning outside the school grounds. Nicole's focus will be on how science contributes to these projects and how she can help to build teacher capability and expertise. Nicole continues to display a passion and drive to explore different approaches in the best interests of her students and Waihi College is keen to support her to develop her own leadership abilities and in return, those of her colleagues.
Nicole is excited to work with Agrisea to develop place-based connections and contextualised curriculum links between their various research projects and Waihi College's learning programs. She sees it also as an opportunity to reconnect with a part of the Science industry that she has not been involved with for some time – she will be able to experience first-hand new science developments and research, and work on how these science capabilities can be brought into the learning environment. Nicole hopes to increase Waihi College's ability to include Nature of Science into their Science curriculum, continue to develop leadership skills to enhance the teaching of science across their kura and to increase their connections with community scientists and science projects. She is keen to enable their students to more closely relate science learning to their everyday lives and future work opportunities.