Ashhurst School – Sara Lambert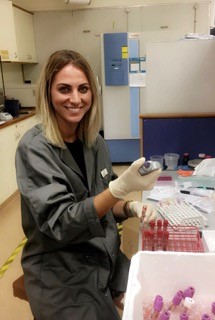 2017 | Food science – Food for thought
School: Ashhurst School
Host: Riddet Institute of Food Material Science, Massey University Palmerston North
Region: Manawatu-Wanganui
Ashhurst School believes that science is a foundation learning area that students will need in order to have a clear understanding of the principles of science needed to be an active participant within the local and global community. The school would like to unpack the mysteries of science and have it's students understand that the Nature of Science lives and breathes within their everyday lives. It wants children to explore with wonderment and awe and ask the right questions of the world that they live in through a scientific lens. To be successful as a school, it is imperative that  teachers have a clear understanding of what scientific process looks like, and have a programme where teachers build on previous learning experiences. 
Sara is a primary trained teacher in the Manawatu region. She is passionate about providing authentic learning experiences for students and aims to facilitate opportunities where students interact with learning concepts through exploration and investigation. Sara aims to successfully engage students in science within the primary classroom in order to develop skills and attitudes that build a foundation for understanding the world we live in.
Sara's placement has involved her participation in a number of research activities being conducted by researchers at the Riddet Institute. It has included numerous opportunities to work and interact with staff, postgraduate students, and undergraduate students working on relevant food pilot research projects. Sara has participated in laboratory work, supported conducting animal and human trials, consulted with clients in the development of food products, and assisted in the production of food products on small and large scale projects. The combination of experiences have been integral to the development of Sara's awareness of the Nature of Science in action. Her placement has allowed her to observe and engage with the processes by which scientists work, developing an understanding of how to effectively facilitate teaching of the Nature of Science within the classroom.
Sara now has a firm understanding of how effective teaching of the Nature of Science, the science capabilities, and scientific knowledge can support each other to facilitate rich real-world learning experiences and develop scientifically literate citizens. The science learning Sara facilitates in the future will be indicative of the experience she has had, using open-ended activities, basing learning on questions and wonderings, and also goals: by establishing a desired outcome and working to combine knowledge, behaviours, and skills to determine an effective efficient process.
The Science Teaching Leadership Programme has provided Sara with invaluable opportunities to work alongside scientists and gain a deeper understanding of how they work, observe effective models of integrated science frameworks at a range of schools, and develop rich pedagogical knowledge at the hands of the passionate and knowledgeable workshop facilitators. The programme has gifted her the time to sit and discuss ideas about science pedagogy and educational values with a range of colleagues, greatly enhancing the development of her own ideas about what makes an effective teacher of science. She is looking forward to beginning Phase Two in term three.
Sara would like to extend her gratitude towards the staff at the Riddet Institute at Massey University, Palmerston North. Their willingness to support her learning has contributed greatly to the development of her ideas and understanding of how to construct engaging, relevant, and purposeful science contexts for our young learners. Their enthusiasm and passion for what they do is admirable. Thank you.