Freyberg High School - Cherie Willetts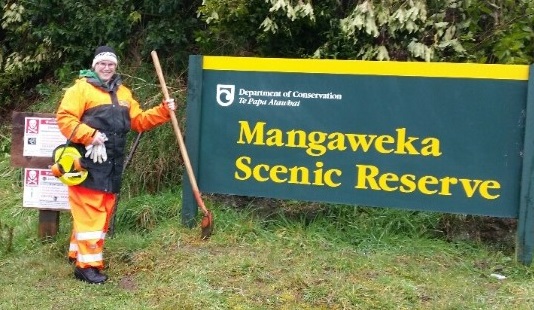 2017 | Manawatu District Operations - A look behind the scenes
School: Freyberg High School
Host: Department of Conservation, Manawatu District Operations team
Region: Manawatu
In 2016, Freyberg High School joined 9 primary schools to form the Palmerston North East Community of Learning. As a CoL the school identified a key target as improving the engagement and achievement of students as active and self-directed learners through science and technology. As the sole high school, the school is very aware that only 46% of their students continue on to Level 2/3 Science subjects so they are hoping to increase the participation in these senior subjects as well as increasing achievement. By having Cherie participating in the leadership programme, the school hopes to improve in this area by starting at the grass roots of Years 9 and 10. The school wants students to develop a greater depth and understanding of the Nature of Science strand which will then hopefully have a follow on effect in senior science subjects.
Cherie has been teaching for 6 years at Freyberg High School. During this time she has taught Junior Science, Senior Biology and Senior Earth and Space Science. She is curious about nature and the way the world works, and enjoys encouraging students to engage in their own curiosity.
Cherie has been hosted by the Manawatu District Operations team at the Department of Conservation. During her placement Cherie has been involved in a range of conservation activities including; restoration of key sites through planting and plant releasing, assisting with the planning and running of Conservation Week activities, reactive work to clear tracks after snow fall damage, environmental education school visits, call recording data analysis – to determine the presence or absence of kiwi in a bush remnant, attending meetings between treaty implementation rangers and local iwi to discuss local assets, working with a local community group to draft content for a new informative sign at the Manawatu Estuary and attending a mini bioblitz to see how such an event is carried out. Partaking in these activities has given her some insight into the Nature of Science in action, as well as the range of undertakings the Department of Conservation are involved in. Her knowledge development of the Nature of Science and the Science Capabilities has also been well supported by the professional development workshops provided by the Royal Society.
A highlight for Cherie during her placement was attending the Department of Conservation Team Process Training at Catchpool, Wainuiomata. She enjoyed participating in the team building activities, as both a team member and team leader and learning about the behaviours associated with each role in the Department of Conservation context. Cherie enjoyed being able to compare the leadership programme offered to Department of Conservation staff and Enhancing Leadership course she attended in Dunedin as a part of the Science Teaching Leadership Programme.
Through her experience with her host organisation and the professional development provided through the Otago University Enhancing Leadership course, Cherie feels that she is now equipped with tools to go back into her school and lead effective change in the Science Department. She enjoyed learning about different leadership and personality styles and how to use this knowledge to develop effective communication, and therefore action.
The Science Teaching Leadership Programme has provided Cherie with in-depth professional development. She is looking forward to applying her learning at Freyberg High School, where the staff in the Science Department are embracing the change to teaching lessons framed around the Science Capabilities. Cherie would like to thank the Royal Society Te Apārangi, Nicole Dillon, Abi Wightman, the Operations Team at the Manawatu Department of Conservation office, and Freyberg High School for investing in her development as a teacher and a leader.