Gore High School - Amy Christie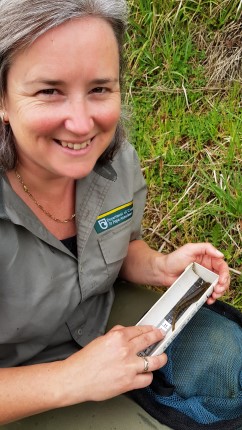 2017 | Wild about Southland wildlife
School: Gore High School
Host: Department of Conservation, Invercargill
Region: Southland
Gore High is a rural Secondary School with a roll of around 500, ranging from Y9–Y13. We have a strong Science department and a good take-up of Science at senior level. Our vision for Science is to make it relevant for our students, to increase engagement and to provide better links to local scientific issues. We have a strong focus on scientific literacy in order that students can become informed, critical and responsible citizens. 
Amy has taught at Gore High School for 9 years and is the Assistant Head of Science. she has spent her placement working at the Department of Conservation (DOC) in Invercargill, which has given her a better understanding of the issues around wildlife management and protection in New Zealand, whilst giving her experience of how scientists work in their everyday roles.
Working in the Biodiversity Team, She has been involved with monitoring wildlife in the Catlins, including Yellow Eyed penguins, Rāpoka/endemic Sea Lion and Mohua. She has also collected data on native Galaxiidae species in the Waipahi river catchment and Oreti River areas. In the office, she has researched the translocation of Mohua and started to develop a translocation proposal for the species. She was also involved with developing a visitor interaction survey to collect data around the behaviour of visitors around the Yellow Eyed penguins at Curio Bay, in order to establish management needs. The placement has allowed her to experience how DOC rangers work out in the field and the way that the nature of science is incorporated into everything that they do.
The professional development sessions in Wellington have helped Amy gain a good understanding of the Nature of Science and how it fits into Science in the real world, particularly within her host organisation. For example, gathering and interpreting data plays a huge role in allowing rangers to make decisions around wildlife management and policy-making. There is constant analysis of data and critiquing of methods, as information is made available to other rangers (and the public) in the form of spreadsheets, graphs and leaflets, as well as a well-developed and informative website. The ability to interpret and communicate information is vital in DOC interactions with interest groups and the public, in passing on scientific knowledge and expertise.
With an increased confidence to link the Science capabilities into real-world contexts, Amy believes that when back in the classroom, her students will benefit greatly from a more contextual lens in their lessons, building their engagement and in turn, their achievement. Amy is looking forward to sharing her learning with her colleagues, so that together they can give their students more engaging science lessons, which give students the skills to become critical-thinking, curious citizens.