Hokowhitu School – Reece Hawkins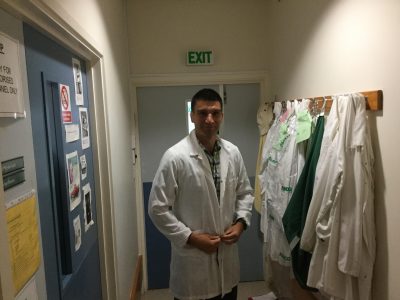 2017 | Exploring ecology in the Manawatu
School: Hokowhitu School
Host: Landcare Research / Manaaki Whenua
Region: Manawatu-Wanganui
The staff at Hokowhitu School believe that science needs to be practical and taught in a meaningful context. Staff want students to develop a strong understanding of science and the important role it plays in society, so their students can become critical, informed and responsible citizens. The school is involved in a Community of Learning, in which one of its major focuses is to improve the engagement and achievement of students as active and self-directed learners through science and technology.  Having a teacher participate in the Science Teaching Leadership Programme will enable Hokowhitu to grow and develop its science curriculum. It will also strengthen science leadership and increase professional development in the understanding of the Nature of Science.
Reece has 15 years of primary teaching experience. During this time, he has taught children from Year 5-8. Reece is passionate about creating learning environments where students are active participants. He sees science and the Nature of Science to be a great motivator to support the teaching and engagement of students within Literacy and Mathematics.
Reece has been hosted by Landcare Research Manaaki Whenua. His placement has involved assisting field technicians, PhD students and scientists out in the field. This has involved, collecting water from lysimeters, collecting soil samples, helping set up a scanner for creating a 3D image of a crop, laying sediment traps and also erecting an eddy covariance tower.  He has also assisted in the laboratory testing soils. Reece has regularly attended team meetings of the Greenhouse Gas Team and has been part of many discussions with scientists around their projects. Through these experiences Reece has learnt a lot about what a scientist role entails. He has gained a great understanding of the processes that a scientist goes through, from developing questions, carrying out research, collecting data and then analysing it. All of these experiences have continued to deepen his understanding of the Nature of Science.
A highlight for Reece during his placement was successfully erecting an eddy covariance tower. After weeks of assembling and testing in the lab (with the support of Andrew his host and Peter the Lab technician), the tower was successfully placed in the field. Once in the field the tower collected data on the exchanges of carbon dioxide and water vapor between the surface of the earth and the atmosphere.  The lengthy process required a lot of problem solving and demonstrated the many challenges that scientists go through to set up experiments and collect data.
The Science Teaching Leadership Programme has provided Reece with an amazing professional learning journey. He is looking forward to applying this learning to Hokowhitu School. He would like to thank The Royal Society Te Apārangi, Andrew McMillan, Landcare Research Manaaki Whenua and Hokowhitu School for investing in him.