Sacred Heart Girls' College New Plymouth – Jeremy Taylor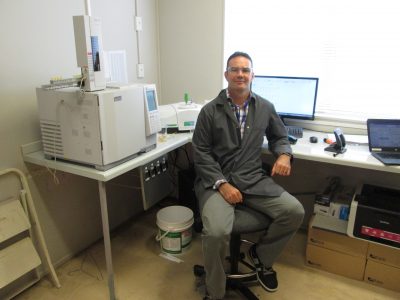 2017 | From formulation to the field
School: Sacred Heart Girls' College New Plymouth
Host: Zelam
Region: Taranaki
Jeremy Taylor is the Head of Science at Sacred Heart Girls' College, New Plymouth where he teaches Junior Science and Senior Chemistry.  After beginning his working life as an Analytical Chemist, he returned to university to complete his Postgraduate Diploma in Teaching (secondary) and has been teaching now for 13 years. Jeremy is passionate about providing his students with engaging science experiences that have the "wow" factor to spark students' curiosity.
Sacred Heart Girls' College is an integrated Year 7 -13 Catholic Girls school with a roll of approximately 700. As part of the current strategic plan, Sacred Heart Girls' College is striving to 'further advance student-centred innovative and collaborative pedagogical practices' and 'engage in rich community partnership'.  The Science Teaching Leadership Programme aligns perfectly with this strategic direction. It will give Jeremy the opportunity to develop his understanding of both the Nature of Science strand of the curriculum, and how scientists work and collaborate to solve "real- world" problems.
Jeremy has been hosted by Zelam Ltd, a research and development based company, which develops new formulations in the crop and wood protection markets.  Here he worked primarily in the Quality Control (QC) Laboratory whose function is to provide support to manufacturing and to test products before release to market. During his time at Zelam Ltd, Jeremy gained a good understanding of how the manufacturing and QC processes work alongside each other to produce a quality product. From receiving raw materials, carrying out quantitative and qualitative tests on intermediate and final products, to the issuing of a Certificate of Analysis for each product before release to market. Jeremy also gained a better understanding of the research and development process through his involvement in field trials and formulation storage and stability studies.
The Science Teaching Leadership Programme has given Jeremy an enriching experience and has allowed him to develop his understanding of the Nature of Science and how the Science Capabilities can be taught explicitly in the classroom. Problem solving is a big part of a scientist's role at Zelam Ltd and being able to use and critique evidence is a key skill. From determining the effectiveness of a new formulation in a field trial to identifying an unknown substance in a container found in a farmer's shed, problem solving is central to the scientific process. Jeremy is looking forward to developing a junior science programme where problem solving through investigative inquiry is the focus and where students are engaged, achieving success and enjoying Science.
Jeremy would like to thank John Crawford and all the staff at Zelam Ltd, New Plymouth, for their support during his time with them. He would also like to acknowledge and thank the Royal Society Te Apārangi for their advice and support.