Terrace End School – Lisa Inglis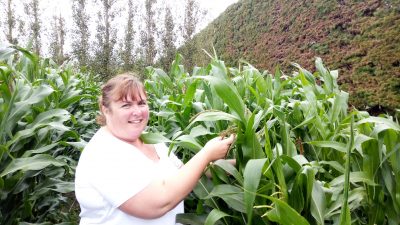 2017 | Building community through communal gardens
School: Terrace End School
Host: Massey University, Department of Maori Resources and Agriculture
Region: Manawatu-Wanganui
Terrace End School believes that science needs to be practical, taught within a meaningful context and based on the process of inquiry. Having a teacher with the opportunity to develop science leadership skills through the Science Teaching Leadership Programme will be highly advantageous for Terrace End School, as it will enable Lisa to build the professional development of teachers through greater depth and understanding of the Nature of Science. Ultimately, this will enhance the engagement of students and teachers within her Community of Learning.
Lisa has nineteen years primary teaching experience. During this time, she has had the opportunity to teach children from a diverse range of year levels, abilities and cultural backgrounds. She has a background in ESOL and Literacy, and is passionate about providing the literacy and language skills needed for children to successfully engage in science.
Lisa has spent the last six months with Dr Nick Roskruge at Massey University, Institute of Agriculture and Environment.  She went into this experience with an open mind and a willingness to try anything at least once.  On completion of her time with her host, Lisa has built a solid knowledge and understanding of the importance of agricultural practices for indigenous people from around the world.
During her time at Massey University, Lisa has worked alongside various PhD students and summer students from around the world as they work through their individual research projects, and this has provided her with the opportunity to 'think how scientists think'. Lisa participated in all aspects of research from collecting samples to processing samples, to researching relevant methodology for better seed collection. 
Working with the diverse scientists and students has given Lisa a greater understanding of the Nature of Science in a real world context, and this will support her in leading science when she returns to Terrace End School.  The time spent immersed in the Nature of Science has provided Lisa with real-life science practices that she can bring back to Terrace End School.  This is particularly relevant to exploring the natural world and the science capabilities.  The natural environment of Terrace End School will be a wonderful outdoor classroom for the children.  Having the opportunity to observe Dr Nick Roskruge and his students has provided Lisa with an excellent example of how leadership can be achieved in a quiet, and culturally responsive way. 
During this placement, Lisa has had the opportunity to work with other like-minded teachers, scientists and organisations.  This has been achieved through visiting schools, working with other science teachers, and exploring how to teach the Nature of Science through science capabilities. This has been particularly helpful in forming connections and networks for future science development at Terrace End School and the Palmerston North East Community of Learning. 
Lisa has thoroughly enjoyed all of the opportunities that have been offered over the last six months and would like to acknowledge all the people involved in creating such outstanding opportunities for teachers to grow and learn both at a professional and personal level.  She would particularly like to thank the Ministry of Business, Innovation and Employment, the Royal Society Te Apārangi, and Massey University, Institute of Agriculture and Environment.