Biography of Leonard Cockayne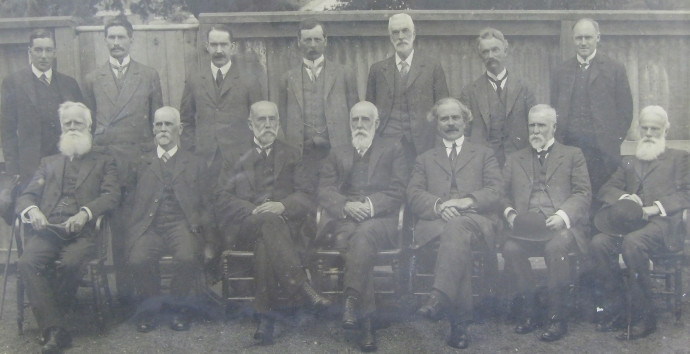 Council of the New Zealand Institute 1912, Leonard Cockayne lower left second. Courtesy Te Papa.
Leonard Cockayne (1855–1934) is considered one of New Zealand's most influential scientists. He published prolifically and was a dominant force in New Zealand Science and Botany in the early nineteenth century.
Early life and career

Born near Sheffield England, Cockayne undertook some preliminary medical training but did not complete these studies. In 1877 he immigrated to Australia, where he became a school teacher, moving to New Zealand in 1881 to teach the elements of botany.
An inheritance allowed him to buy a small farm at Styx near Christchurch and property near New Brighton, where he established the experimental garden Tarata. Cockayne become a recognised authority on New Zealand plants and vegetation, making valuable contacts with eminent botanists both at home and abroad during this time.
Pioneer of New Zealand Botany
Cockayne's major contributions to botany were in plant ecology and in his theories of hybridisation.
Between 1901 and 1903 he undertook expeditions to the Chatham Islands, the West Coast of the South Island, Fiordland and subantarctic islands. He also produced major reports on Waipoua kauri forest, Tongariro National Park and Stewart Island. His book The vegetation of New Zealand, published in 1921, was the standard reference for 70 years.
Cockayne won many awards and held eminent positions in scientific and conservation organisations. He was the scientific voice behind Harry Ell's successful promotion of scenery preservation, and he helped to persuade the government to establish the Department of Scientific and Industrial Research. In 1927 he was responsible for the founding of the Otari Open Air Plant Museum at Wilton, Wellington.
Honours and awards
Honorary PhD the University of Munich (1903)
Fellow of the Linnean Society of London (1910)
Fellowship of the Royal Society of London (1912)
Winner the Hector Memorial Medal and Prize (1913) and the Hutton Memorial Medal (1914) of the New Zealand Institute
Fellow of the New Zealand Institute (1919)
Winner Mueller Memorial Medal of the Australasian Association for the Advancement of Science (1928)
Royal Society of London's Darwin Medal (1928)
Appointed a CMG (1929)
Winner of the Veitch Memorial Medal of the Royal Horticultural Society (1931)
University of New Zealand with an honorary DSc (1932)
References and Further Reading
New Zealand History. Leonard Cockayne https://nzhistory.govt.nz/media/photo/leonard-cockayne-biography (Ministry for Culture and Heritage).
A. D. Thomson. Related biographies for 'Cockayne, Leonard', Dictionary of New Zealand Biography, first published in 2010. Te Ara - the Encyclopedia of New Zealand, https://teara.govt.nz/en/biographies/3c25/cockayne-leonard/related-biographies
Photograph by Stanley P. Andrew, Alexander Turnbull Library, S. P. Andrew Collection (PAColl-3739)
Reference: 1/1-018377; F