Trust, misinformation and social in(ex)clusion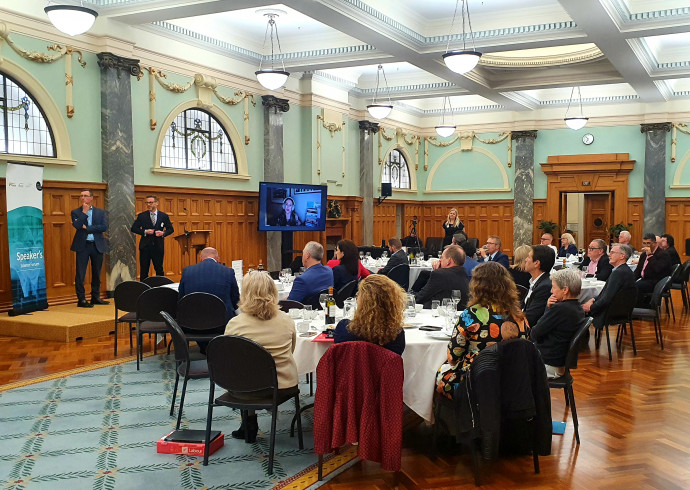 MPs gathered at Parliament on 8 Piripi June to hear experts discuss new research on mis- and dis-information circulating in New Zealand communities.
Dr Michael Daubs discussed how emotional responses to disinformation campaigns can lead people to base their beliefs and decisions on factually incorrect information. He described how these campaigns are often rooted in misogyny and racism, and highlighted how attempts to correct misinformation can reinforce false beliefs. Kate Hannah described the impact of 'information disorders' on the the health and wellbeing of New Zealanders, and the role of communities, civil society and institutions in building trust and social connection.
Read summaries of the talks below and view powerpoint slides from the event here: Misinformation
Affect, Bias and Disinformation
Dr Michael Daubs, Te Herenga Waka—Victoria University of Wellington
Misinformation and disinformation are related but slightly different things. Misinformation is the inadvertent sharing of false information, whereas disinformation is intentional falsehoods spread as news stories.
There are several reasons people and groups generate and spread disinformation, including financial or political motivations, to increase distrust in government, the press, and experts, or the desire to generate discord and undermine social cohesion. Identifying disinformation can be difficult because it is sometimes mixed with factual reporting on documented events to enhance the perceived veracity of false information. In addition, the Disinformation Project demonstrates that this disinformation can come from a small number of sources.
Dis- and misinformation are often shared because of a strong emotional or affective response to that false information, which is fuelled by existing beliefs and biases. In short, content that 'feels true' and evokes a strong response is perceived as more believable. Because it resonates more strongly with already-held opinions and tends toward the shocking or sensational, disinformation often spreads faster than factual news stories. The result is that people are more likely to base their opinions, decisions, and actions on factually incorrect stories that are crafted to incite strong emotional or affective reactions.
Countering mis- and disinformation can difficult because of the political economy of online platforms that profit from user engagement, the speed and scale at which digital information can be replicated and shared, and the fact that it is time-consuming and expensive to debunk false information. Moreover, presenting people with information that conflicts with their worldview can reinforce their belief in false information through a process called motivated reasoning. This cognitive response is the reason why people continue to share misinformation despite ample evidence that what they are sharing is wrong.
Although it seems as if disinformation is the cause of many current political and social issues, it is also a symptom of long-standing societal issues such as misogyny, racism, nationalism, hyper-partisanship, distrust in government, and anti-intellectualism. Addressing those issues is a long-term commitment to improving social cohesion. Supporting and expanding initiatives such as 'prebunking' workshops and other counter-misinformation training can help limit the effects of misinformation in the short term, allowing efforts to address systemic issues more time to develop.
Speaker bio: Dr Michael S. Daubs is a Senior Lecturer in Media and Communication at Victoria University of Wellington. His research has investigated topics including mobile apps and the open Web, mediatisation and social movements, and dis- and misinformation as threats to democracy. Currently, he is researching the role of information communication technologies and online platforms in the spread misinformation and white extremist ideologies. He is the co-author (with Peter A. Thompson) of "International Regulatory Frameworks for Online Content", a research report commissioned by the New Zealand Department of Internal Affairs, and co-editor (with Vincent Manzerolle) of Mobile and Ubiquitous Media: Critical and Internal Perspectives from Peter Lang. He is also the Co-Director of the Internet, Social Media, and Policy Research Lab under Director Mona Krewel at Victoria University of Wellington.
The Common Good or the Tragedy of the Commons? Social cohesion, trust, and the impact of misinformation.
Kate Hannah, The Disinformation Project
Renowned public health expert, Sir Michael Marmot, writing in reflection on twenty years work on the importance of the social determinants of health, and in in midst of the pandemic's impacts stated that a socially cohesive society with concern for the common good is likely to be a healthier society. Here in Aotearoa New Zealand, we are privileged to draw from Tā Mason Durie's ground-breaking work describing health and wellbeing within a Kaupapa Māori framework, Te Whare Tapa Whā (1984) wherein health and wellbeing is a wharenui with four walls. The wharenui has strong foundations within the whenua on which it sits. These models, conceived to describe the complex interrelationships between individual health outcomes, social issues, community wellbeing, and social inclusion, provide enormous insight for the study of information ecologies and information disorders. People who are grounded, situated, enabled to flourish and contribute, and connected to others are far less likely to experience negative health outcomes and far less likely to experience other negative outcomes: disconnection, information disorders, social exclusion, and participation in fragmented realities.
International research describes how an increased sense of isolation, an increased sense of fear and uncertainty, an increased anxiety for the future, and decreased control contribute to an individual's propensity to firstly entertain and then believe in or advocate for conspiratorial ideas. Mapped using social network analysis, this image of the Aotearoa New Zealand information ecosystem on a single day, March 2 2022, depicts how information sources and sentiments related to those information sources are almost completely bifurcated.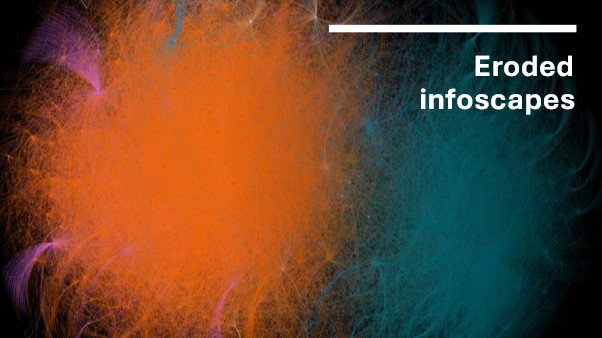 The blue clusters, nodes, and links represent those watching livestreams shared on social media by participants in the protest, and supportive commentary. The orange and pink represents those who watched mainstream media coverage and expressed negative sentiments towards protestor action. Over the course of the 23-day parliamentary occupation we observed in real time the increasing correlation of consumption of alternative media/social media as news sources, and support for the occupation, culminating in this mapped informationscape, which reveals significant splintered realities.
The Delta outbreak saw a significant change in people's consumption of information and participation in media including social media. The circadian rhythms of people's production of content on social media changed – content creators were awake longer, creating and or sharing content into the night, and earlier in the morning. Similarly, audiences were engaging with content for longer periods of time, and later into the night. The connection between information disorders, information landscapes, and physical health and wellbeing – taha tinana – became apparent. Within context of information disorders, we understand the impacts of different ecological landscape features on people's access to reliable and trustworthy information from which they can form opinions and make decisions. The pre-existing presence of social conditions which contribute to propensity to take on board conspiratorial ideas - isolation, uncertainty, anxiety, fear of the future – have been exacerbated by temporal and circadian shifts in information saturation, and increased as necessary public health measures increased isolation.
We have all lived through what we once innocently called unprecedented times. We have all experienced isolation, anxiety, disconnection, and grief. Those emotions and experiences will continue to shape us as people and as communities. But in naming the problem, we have the beginning of solutions: we all share the experience of the pandemic, and as we slowly return into shared spaces beyond work and commerce, but back into community, we can tell stories and turn to trusted storytellers to examine how we can do so consciously. Our rugby clubs and RSAs, our community centres, our kura, our marae, our places of worship, our Rotary meetings and our Maori Women's welfare league meetings, our umpire training days, our libraries, galleries and museums – these third spaces where we enact community are spaces within which we have always negotiated our differences with respect and kindness, and where we have always come to validate new information and explore our commonalities.
We know that eroded landscapes and over-consumption of resources lead to the tragedy of the commons, where in a shared resource is no longer able to support the community to whom it belongs. The internet can be a tool that contributes to erosion, but it can also be a tool we turn to build connection, mediate shared values, and post rosters for community gardens. A socially cohesive society with concern for the common good will also be a society that has transparent and inclusive access to reliable information and knowledges, and inclusive access to spaces within which to verify trust in that information, and to negotiate difference and commonality with respect and safety.
Speaker bio: Kate Hannah is the Director of The Disinformation Project Aotearoa, a research project which has studied misinformation and disinformation in Aotearoa New Zealand since February 2020. The Disinformation Project's research makes use of mixed methods, combining open-source and quantitative data from a range of social media platforms, cross-pollination patterns, super-spreader signatures, semantic study, and the qualitative analysis data, including discourse shifts over time. The Project's approach to information disorders provides unique perspectives into misinformation and disinformation's establishment, entrenchment and expansion in Aotearoa New Zealand.
Hannah is a cultural historian of science and technology who focuses on Covid-19, racism, misogyny, and the far right. She is experienced with research translation for decision-makers, communication, public engagement and consultation, and community co-development of research and research outcomes. Part of the Te Pūnaha Matatini team that won the 2021 Prime Minister's Science Prize for their work in supporting Aotearoa New Zealand's Covid response, Hannah is a 2022 International Visitor Leadership Program alum, participating in a program focused on Disinformation in the Pacific. She has been a Principal Investigator with Te Pūnaha Matatini, and a PhD candidate at the Centre for Science and Society at Te Herenga Waka – Victoria University of Wellington.