News
Published 6 December 2018
Ankita reflects on her journey to Falling Walls Lab Finale 2018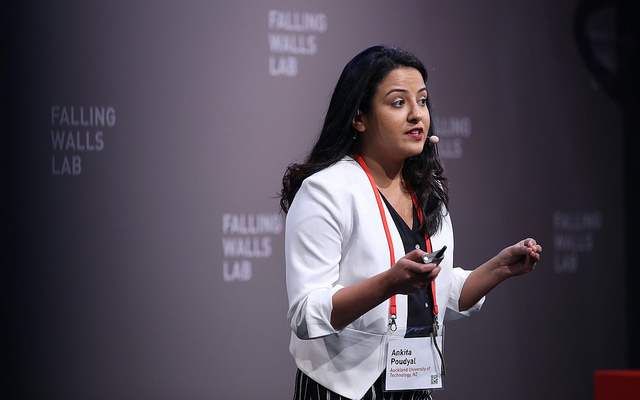 Ankita Poudyal is a PhD student at Auckland University of Technology. She won the inaugural Falling Walls Lab New Zealand event in Wellington in September 2018 and a journey to represent New Zealand at the Falling Walls Lab Finale in Berlin.
In the Finale, Ankita placed third amongst 100 other young researcher and entrepreneur finalists from all over the world and additionally won an opportunity to pitch her project at the prestigious Falling Walls Conference.
Ankita's Journey
As I was landing in Berlin, I could see the whole city clad in the orange and red hue of autumn. My excitement had already begun, as it is my favourite season of the year and in New Zealand, most trees stay green throughout the year. I had arrived one day before our 4-day programme, with a very bad jetlag of flying 25 hours from Auckland. Germany had always been on my To-Go list so I could not afford wasting any time resting back at the hotel. I went on a walking tour the same day and immediately fell in love with the history and beauty of the city.
I met most of the other finalists the next day at the coaching session. I realised that I was not there just to prove myself but in fact to represent New Zealand, my institution—Auckland University of Technology—and my home country Nepal. I felt proud, happy, excited and nervous all at the same time. There were students from undergraduate level, PhD candidates like myself, postdocs, surgeons, entrepreneurs and experienced researchers, all competing together. Falling Walls had organised group activities and a reception dinner so that participants could get to know each other and by the end of that day we had become less like competitors, and more like friends.
On the second day of the programme, we went on a science excursion to a very famous technology park "Aldershof" where we got in touch with leading scientists and representatives from both funding organisations and research institutions. We also went on guided tours to various research institutes at Aldershof. In the evening, we were invited to attend Berlin Science Prize where two great scientists (both of whose work I have followed since I started my study of science) were awarded for their ground breaking research. It was surreal to see them on stage being acknowledged and appreciated for their contribution to society.
On the third day was the Falling Walls Lab finale, which was held at Pariser Platz in front of the Brandenburg Gate and live streamed for audiences all over the world. It was a perfect venue, right at the heart of Berlin. The jury was chaired by former astronaut Claudie Haignere with 18 members all of high calibre, including the Chairman of the Nobel Foundation. I was scheduled to present later in the day, as I was the 77th to present. I sat down and listened to my fellow finalists who pitched their wall-breaking research in their own field. A few of them had already been acknowledged by Forbes magazine and many of them were certain to break the walls of various problems in the future. My nervousness gradually started fading because I was already feeling proud to be a part of the finale and an audience to such brilliant presentations.
That day I was breaking the wall of inefficient filters and I had 3 minutes to explain my research in the best way possible. Most commercial filters that claim high removal of pollutants are made thick and compact but they block the air-flow. However, making them thinner would mean inefficiency in capturing particles, especially the nano-sized ones that can penetrate deeper into our lungs. I presented on how we can combine nanotechnology with an innovative surface modification technique to make filters that can provide the best of both the capture and good flow.
After the 100th presentation, it was time for the jury to announce the top three names who would be awarded the coveted title of "Young Innovator of the Year". I could sense that everyone in the room had already felt like winners, sitting there and witnessing human intelligence, innovations, diversity of research and cultures coming together at one place. When I heard my name announced as the third place winner, I remember feeling so numb. When I was on stage receiving the award, I could only think of my family watching me live back home in Nepal, my friends back in NZ who had been rooting for me and just feeling proud that I represented New Zealand and my home country Nepal the best way I could.
The next day, the top three winners got a chance to present their pitch at the Falling Walls Conference along with leading scientists and researchers from top institutions such as MIT, Harvard University, University of Cambridge, Max Planck Society and many more.
When I was on stage at the conference, I looked at the elite audience in front me and I felt so grateful to be a part of that community and so glad to be acknowledged for my work at such a global platform. I am immensely thankful to Falling Walls for carrying out this feat every year of bringing everyone together to celebrate science, business, art, politics and all kinds of research. Lastly, kudos to Royal Society Te Apārangi and the German Embassy for hosting and organising the first Falling Walls Lab New Zealand with great success!
About Anikita Poudyal - Falling Walls New Zealand Young Innovator of the Year 2018
Ankita Poudyal is a PhD candidate at the School of Engineering, Computer and Mathematical Sciences at Auckland University of Technology (AUT). She received her undergraduate degree in her home country Nepal and her Master's degree from Wake Forest University, USA. She moved to New Zealand three years ago to work on the design of filters to capture pollutants at AUT's Centre for Kode Technology Innovation (c4KTI). Her project is supported by a Callaghan Innovation R&D Fellowship grant and is a joint project between c4KTI, Kode Biotech Ltd and Revolution Fibres Ltd – a New Zealand business based in Auckland, which specialises in the development, production and marketing of nanofiber products.

In her project, she is working to coat nanofibers (fibres that are 500 times thinner than human hair) with chemical molecules that have special affinity towards pollutants in order to create filters that are more efficient in capturing pollutants while at the same time allowing easy airflow through the filter.
When she is not experimenting in the lab, you might find her experimenting in her kitchen, trying new recipes and taking food photographs for her blog.
About Falling Walls Conference
The Falling Walls Conference is an annual global gathering of forward thinking individuals from 80 countries and attracting 700 international guests. Each year on 9 November – the anniversary of the fall of the Berlin Wall – 20 of the world's leading scientists are invited to Berlin to present their current breakthrough research. The aim of the Conference is to identify trends, opportunities and solutions for global challenges, support the exchange of international interdisciplinary research ideas, build bridges between business, politics, academia and the arts, and to inspire people to break down walls in science and society.
Source: Royal Society Te Apārangi