News
Published 27 September 2018
Presentation Videos and Photos: 2018 Falling Walls Lab New Zealand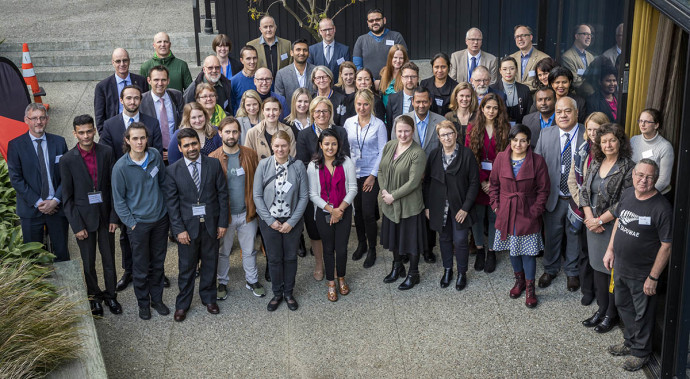 2018 Falling Walls Lab New Zealand participants, judges and some of the audience
Videos and photos are now available from 2018 Falling Walls Lab New Zealand. Watch as 19 young innovators from across Aotearoa and the Pacific pitch their solutions to some of the world's toughest questions within a time limit of just three minutes each.
For the first time, on 10 September 2018, New Zealand held its own Falling Walls Lab event separate from the Australian event. The participants were from around New Zealand and the Pacific. 
The global event is run by The Falling Walls Foundation, a non-profit organisation in Berlin, dedicated to the support of science and the humanities. It was established in 2009, 20 years after the fall of the Berlin Wall. At its heart is the question 'Which are the next walls to fall?' as a result of scientific, technological, economic and sociological breakthroughs. The winner from each Lab is sent to Berlin to present at the international Falling Walls Finale event.
Videos from all 19 presentations are now available to watch online on the Royal Society Te Apārangi YouTube channel and Photos from the day.  The top three presentations are below.
This years winner was Ankita Poudya (AUT University) for her presentation 'Breaking the Walls of inefficient air filters'. Ankita is headed to Berlin to represent New Zealand at the international finale on 8 November 2018.
Second place went to Frazer Coutinho (University of Auckland) for his presentation 'Breaking the Walls of vision loss'.
Third place went to Brionny Hooper (Scion) for her presentation 'Breaking the Walls of safety without thinking'.
Source: Royal Society Te Apārangi